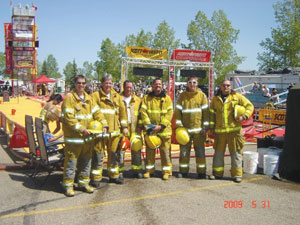 There is a strong possibility that the fittest of the fit in firefighting will be in the valley next spring to take part in the Scott's FireFit Championships.
     Last week Drumheller firefighter Duane Bolin made a presentation to the Drumheller and District Chamber of Commerce.  Bolin along with firefighter Merv Smith have been working on bringing the event to the valley.
    The goal of the presentation was to gauge support, and hopefully earn buy-in from the chamber on bringing a FireFit competition the valley.
    FireFit is an obstacle course that pits firefighters through a gruelling course testing their strength, stamina and skill. Just completing the course is a feat for many. Bolin and Smith have both participated in FireFit Challenges in the past.
    "We've been working with FireFit since last year and told them we want it," said Bolin. "In southern Alberta they usually get about 100 individual competitors and anywhere from 120-140 for the team event."
    This event is known nationally and worldwide. They often broadcast the nationals and the larger regional events on TSN and OLN.
    "It could mean some great exposure for the town,'" said Bolin, adding economically it could also be a boost.
    "They (FireFit) like the smaller communities because then it is an event. When it is in a bigger centre, it could be just in a parking lot, and just another thing going on," said Bolin. "I've been in Moose Jaw and Brooks and it is part of the big event in the town."
    If the interest is there, they hope to build the event over three days. The FireFit individual competition would typically be on Saturday, while the team event would be on Sunday. On the Friday, they are looking at hosting a corporate challenge where teams of community members could participate. This would be a fundraiser for the Badlands Community Facility.
    They are also looking at a TOPCOP event. This is a relatively new addition. Like testing a firefighter's skills, the TOPCOP competition puts peace officers to the test. He says there is good interest from some correctional officers at the Drumheller Institution that may possibly take part in the competition.
    "It's kind of at the demonstration stage," said Bolin.
    The TOPCOP competition is open to anyone employed by a law enforcement agency or similar agency such as park wardens. It uses the same course as the FireFit Challenge but the obstacle is adapted to reflect the challenges of an officer in the line of duty.
    He said the Chamber of Commerce was receptive to the idea, but there is a lot of groundwork to complete before they would be able to host the event.
    So far, the tentative dates they are looking at are June 10-11 or June 17-19, 2011
    "It is a pretty small window when FireFit comes across Alberta," said Bolin. "They are only in Alberta for about three or four weeks."
    Before the event they also want to make sure they have strong community support, and Bolin is hoping to address Drumheller Town Council in the near future.
    There is also the matter of selecting a site. Organizers have some ideas on where to host the event. The minimum space needed is 100' X 200' with a 60 amp power supply, telephone lines and hydrant access. There is also a need for space for spectators and security.
    They are hoping to have a host sponsor in place.
    While the event, if it comes to Drumheller, is quite some time from now, Bolin and a crew of Drumheller firefighters will be competing. Bolin has been in about 12 events over the last decade. Bolin, Smith, Jordan Harper and Travis Hardy will be competing in Medicine Hat for the Canadian Badlands Regional-Southern Alberta competition on June 12 and 13, and possibly in Edmonton later in the month. In all there are about eight firefighters who are currently training.
    "The new guys all want to do one because they want to compete when it is in Drumheller, so when it is here there should be eight or 10 guys. We are hoping to draw some of the regional departments that have never done one before," said Bolin.
    For more information, contact Bolin 403-823-2559. Also go to www.firefit.com to learn more about the events.