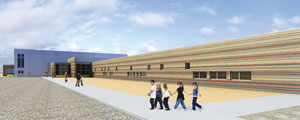 This year's rainy summer has pushed back most things, from road construction to harvest, and construction on the new St. Anthony's School has faced push-backs as well because of soggy ground.

    Excessive rain has delayed construction on the new site, along North Dinosaur Trail past the Drumheller and District Health Centre, moving back the previous move-in date of January to around the end of March, said  Christ the Redeemer Catholic School division assistant superintendant Vincent Van Hyfte.
    "We can't make a call for a move-in date yet, the weather will decide that," said Van Hyfte.
    If construction ends as planned at the end of March, the move will be made to the new school for the remaining three months of the 2010/2011 school year.
    St. Anthony's Principal Tim Gregorash said the new building will provide more options for students.
A wood-shop facility will be built, with welding, small engine repair and other option courses which have never been available at the current school site.
    St. Anthony's new Media Room will bring a green-screen to the school, giving access to technology not found in the classroom before.
    The school will boast a larger cooking area, larger band room with higher ceilings, and an embroidery station.
    "These are things that students will want to take that haven't been available before," said Gregorash.
    One feature noticeable now is the brick laid for the exterior of the building, mimicking the badlands hills behind. The exterior of the gym will be covered in an dazzling silver corrugated aluminum product, an interpretation of the prairie sky.
    Padua Hall will be the open area you see as you enter the building. With extensive glass and a north exposure, there will be intense light with less-intense heat.
    From the opening hall, a chapel with glass walls will be  in sight, the drama room and cafeteria to the left, and retractable seating to allow Padua Hall to serve as a faith, circulation, eating, theatre, and social area.
    Currently, St. Anthony's has been using a nearby church to facilitate its drama programs. Padua Hall's bleachers will lead into the drama room, giving them an area of their own.