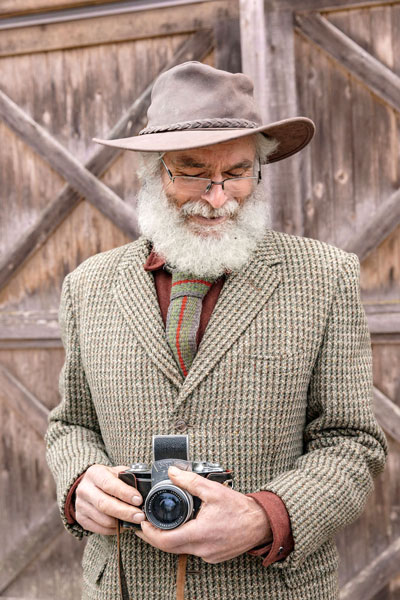 DIGBY
Robin Peter
January 1, 1961 - November 9, 2023
Natural Science Educator, Heritage Conservator, Craftsman.
Curious, vibrantly energetic, creative, ingenious, determined: Robin had a unique, independent way of viewing the world and
living in it. He inspired and motivated those he taught, mentored or collaborated with.
Robin was born in England and raised in Montreal, in a family of naturalists that tent-camped and explored North America every summer. As a young man he explored his way to the badlands of Alberta and the quiet village of East Coulee. Together with wife Linda, he crafted a life here that gave him mission and meaning to the end of his days.
Robin became a land-based science educator, co-creating with Linda endeavours for which they received professional recognition, especially Groundwork Natural Science Education and Dinosaur Country Science Camp. He later applied his passion for heritage conservation at the Atlas Coal Mine National Historic Site and went on to restore heritage buildings across three provinces, becoming a noted as a pioneer in traditional repairs.
At home, Robin artfully restored their historic house and stewarded their riverside garden into a sanctuary for wild birds. In the kitchen he trialed exotic ingredients and developed new recipes. He treasured his children Ruth and Peter, taking them along on grand adventures, examining nearby landscapes and exploring distant environments.
Thank you, Robin, for the legacy you leave us.
Robin leaves his wife Linda; daughter Ruth (Nic), son Peter (Carolane), grandson Noah; sisters Susan (Frank), Claire (Robert), and Karen; nephews Chris, Daniel (January), Benn, and Michael Drysdale; and Linda's loving family. He is predeceased by his parents, Peter and Violet Digby.
Many people supported Robin and our family in recent years, as he responded to cancer with stoic pragmatism and intense scientific curiosity. We thank Dr. Ezekiel Weis, Ocular Oncologist at the Southern Alberta Eye Center, for his years of exceptional care. We thank Dr. John Walker of the University of Alberta's Cross Cancer Institute for his humanity. We are deeply grateful to the dedicated staff of Drumheller Paramedic and Home Care Teams, Palliative Care Nurse Jennifer Nagy and Home Care Nurse Kendal Suntjens. Their combined support, along with that of friends and family, allowed Robin to remain in his beloved home, comforted by views of nature right outside the window. Linda wishes to give special thanks to Robin's sister Claire for her extraordinary care throughout his illness and in his final days.
Robin was a long-time donor to the Nature Conservancy of Canada. If you wish to honour him, a donation to NCC would be fitting.