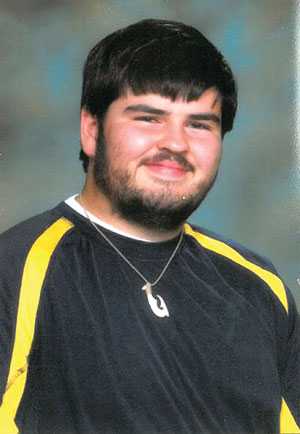 A Craigmyle student has been given the honour of having a poem he wrote to commemorate those who have fought and died for Canada read at a sitting of the Alberta Legislature.
    Ted Brinkman, son of Ed and Lynn Brinkman of the Craigmyle area, is a Grade 12 student at Delia School. His poem was entered in the Royal Canadian Legion's annual Literary and Poster Contest. His work Hope and Honour won first place provincially and then went on to win second place nationally.  He was invited to read the poem on November 4 at the Alberta Legislature's Remembrance Day Services.
    Ted has never considered himself a poet. His entry was originally a social studies assignment, but then it became more than an assignment.
    "I took it very seriously," said Ted. "It is easy to write about Remembrance Day."
    The subject is important to him as his grandfather fought in World War II.
   "It is an honour to have made it this far in a contest like this," he said, adding he feels good that his thoughts on paper help to bring awareness to Remembrance Day.
 "I don't think we can ever understand what these people went through," he said.
    While Ted was invited to read the poem, he will be out of the country. Another person will read the poem in his place.
    His success has inspired him, and he said he would be entering again this year.
Here is Ted Brinkman's poem, Hope and Honour.
Canadians with hope and honour
Marched to foreign lands
Carrying honour in their hearts
And hope in their hands

Canadians with hope and honour
Left loving families behind
To travel to distant lands
To bring peace to all mankind

Canadians with hope and honour
Fought for all of us
Fought for what they believed in
Fought for love, honour and trust

Canadians with hope and honour
Fought along side one another
Made new friends, lost old friends
Every man was a brother

Canadians with hope and honour
A thank-you seems so small
You never asked for recognition
Just to be remembered by us all

Canadians with hope and honour, your sacrifice
Is something we will always remember
Because of you we are free
You are in our thoughts on the 11th of November