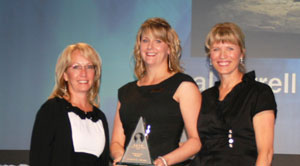 The Royal Tyrrell Museum has won the Alberta Tourism (ALTO) Award for Alberta Pride.

    The award is coveted throughout the tourism industry, but even more this year in the valley because the museum was head-to-head with the Canadian Badlands Passion play for the award.
    "Being recognized by our peers is the big thing," said Leanna Mohan, the Royal Tyrrell Museum's marketing director, "and to bring it back for everyone who worked so hard."
    The award was presented at the 10th annual 2010 Travel Alberta Conference Awards Gala on Monday evening at the Fairmont Banff Springs Hotel and Conference Centre. The Tyrrell has previously been awarded for its Excellence in Marketing.
    The Alberta Pride Award was created to recognize a business or organization that captures the essence of the Alberta experience.
    "We showcase the best Alberta has to offer," said Mohan. "Our guests benefit from their experience by leaving with an increased understanding and respect for Alberta's heritage."
    This was a special year for the Tyrrell. Year after year it has attracted in the area of 400,000 visitors. The museum's continued success was realized as its 10 millionth visitor came through the door in August. This also happened as the museum celebrated its 25th anniversary. They commemorated this milestone with an exhibit that showed off 25 of the museum's greatest discoveries.
    "It was such a big year on the science side,as well as education," said Mohan. "It is the overall pride in Alberta award, and it speaks well to who we are."
    While they did not win, the Canadian Badlands Passion Play also had a phenomenal season, boasting its largest single performance audience. The Passion Play also continued its improvements to the venue and its numbers.
    The Tyrrell was not the only area based organization to win this evening. Canadian Badlands won the ALTO Friends of Tourism Award. Started as a vision, it now has a membership of 62 municipalities brought together to create a limited company to harness the tourism potential of the Badlands.
    "There's been a power to the combined tourism product development effort," says former CBL Chief Executive Officer, Cindy Amos, adding, "as the largest municipal collaboration in the province with 62 shareholders, teamwork and co-operation are the bases of the organization."
    There was another honour bestowed on this evening, and that was to LaVerne Erickson. He was named the 2010 Alto Ambassador. Erickson founded the Rosebud School of the Arts and Rosebud Theatre, and the Canadian Badlands Passion Play. He also pioneered Canadian Badlands.