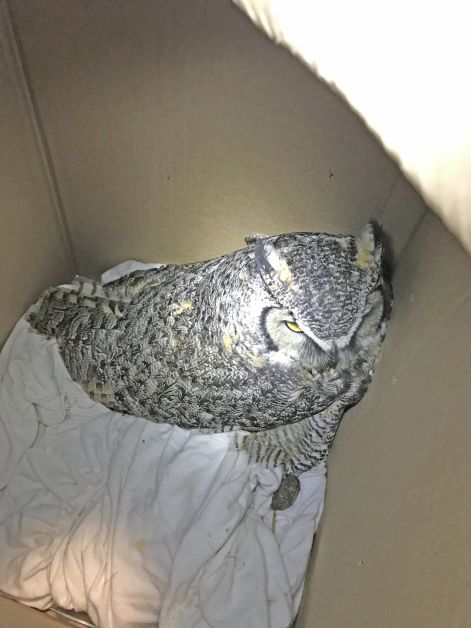 A great horned owl may have a new lease on life thanks to the quick thinking of a Michichi couple.
Dave Heistad and Janet Stevenson were driving on Sunday afternoon, January 13, when Stevenson spotted an injured owl near the intersection of Highway 849 and Highway 9, north of Michichi. It was pecking at a frozen fox carcass at the side of the road.
"We could either do one of two things, leave her by the side of the road and let nature take its course or you try to help," said Heistad.
They turned to social media for what to do. They follow some Alberta bird pages on Facebook and they were able to get advice on how to deal with the injured bird and where to take it.
They returned to where the bird was last seen, and with help of another couple and captured the bird. They located the owl in some scrub grass, covered it with a blanket and took it home in a box.
"One of her wings is obviously damaged, she couldn't fly away from us. She just kind of flapped her wings and hobbled away," said Heistad. "She was able to lift her wings she just couldn't get any lift."
They were able to administer a simple mixture of sugar and water delivered through a syringe to temporarily nurse the bird. The owl took to it on Sunday night as well as Monday morning.
"Sunday she was calm, but Monday she was kind of getting a little more grumpy," said Stevenson.
The couple took the injured fully grown female great horned owl to Red Deer on Monday Night. A volunteer in Red Deer took the bird and planned to take it the next day to Medicine River Wildlife Centre in Spruce View. A further assessment showed the bird has an injured eye and possibly a head injury, indicative of a possible collision with a car.
The couple says they plan to follow up in the next few days to learn about the bird's condition.