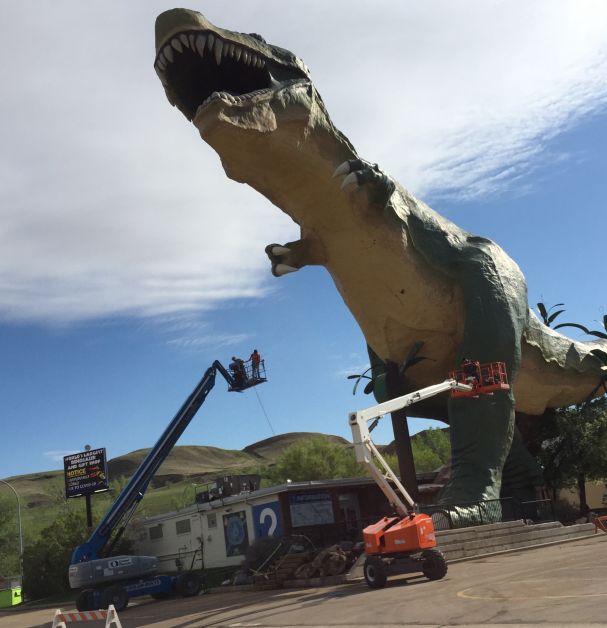 Last week a crew was at the World's Largest Dinosaur undertaking an exterior refurbishment.
The iconic attraction, built in 2000, was in need of a fix-up. Plans for the exterior repair and paint had been underway since last year. In March 2020, the Chamber of Commerce learned it would be receiving $200,000 in federal funds to go towards the exterior refurbishment of the dinosaur.
"When Canadians hear the name Drumheller, they instantly think of one thing: dinosaurs. Now, with the support of Western Economic Diversification Canada, this iconic Alberta attraction will undergo a scenic transformation so it can continue to amaze visitors from across Canada and around the world," said The Honourable Mélanie Joly, Minister of Economic Development and Official Languages and Minister responsible for Western Economic Diversification Canada. "Projects like these are crucial to helping our tourism sector come roaring back after COVID-19, and residents of the dinosaur capital of the world can rest assured their government is working with them to do just that."
Chamber president Jeff Hall said these grant funds will be released after the completion of the project.
A Request for Proposals was sent out in March and the DDCC Board of Directors selected F & D Scene Changes Ltd to perform the work. Local company Dinosaur Valley Studio also bid for the project but was not selected. President of Dinosaur Valley Studios Frank Hadfield said they submitted two quotes; one for extensive repair that would last 10 years, and a more economical quote.
"What bothered us about it is we were never contacted for any more information and the fact that in these economic times the vast majority of the money that would have been awarded to us in the contract would have been redistributed in the community of Drumheller," said Hadfield. "That would have been supplies, that would have been equipment, equipment rental, and all of these things. It could have been a high injection of capital for the region."
Dinosaur Valley Studios has been doing international work for a number of attractions and museums. Currently, it is working on a giant Nothern Pike for Rochon Sands near Stettler. He said their reputation is for quality work.
"If we go around low balling things, it damages our reputation if we don't have quality workmanship," said Hadfield, noting he was unaware of the evaluation criteria of the bids. "I just wish there would have been a bit more dialogue between the board and us."
He also expresses his concern for bringing in an outside company during the COVID-19 pandemic.
"We have been having it preached to us for the last two months to keep people out of our community that doesn't live here and then invite in a firm from Calgary to come and live amongst us to work on the dinosaur," he said.
He estimates if Dinosaur Valley Studios were selected it would have employed 8-10 employees in the valley.
Hall said the Chamber does have a policy for hiring locally.
"The Chamber has a policy that preference would be given to a local supplier when the price differential is 10 per cent or less," said Hall.
"I believe as a board we really gave serious consideration to trying to award this project to the local supplier, especially in light of the trying times right now. Again I personally believe the following. If the price difference would have been 5 per cent or less, the project would absolutely have been awarded locally. If the price difference would have been 10 per cent or less, I believe the project would likely have been awarded locally. If the price difference would have been 15 per cent, I believe the project would probably have been awarded locally. Even though this is outside of our policy, I would like to believe the Board would have supported local in this situation."
He notes that price was not the only consideration, While each board member evaluated it using their own judgment, he took into consideration the location of the bidder, timeline, details provided in the proposal with respect to the approach to completing the repair, price and overall quality of the proposal provided.
"If pricing would have been comparable, we would likely have tried to work with the local bidder, just to keep the funds in town during this trying time. The fact that pricing was not comparable, and the contractor outside the Valley had the better proposal in all other factors, would have lead me to vote in favour of the tender from outside that Valley," said Hall.
The work is expected to take about three weeks to complete.