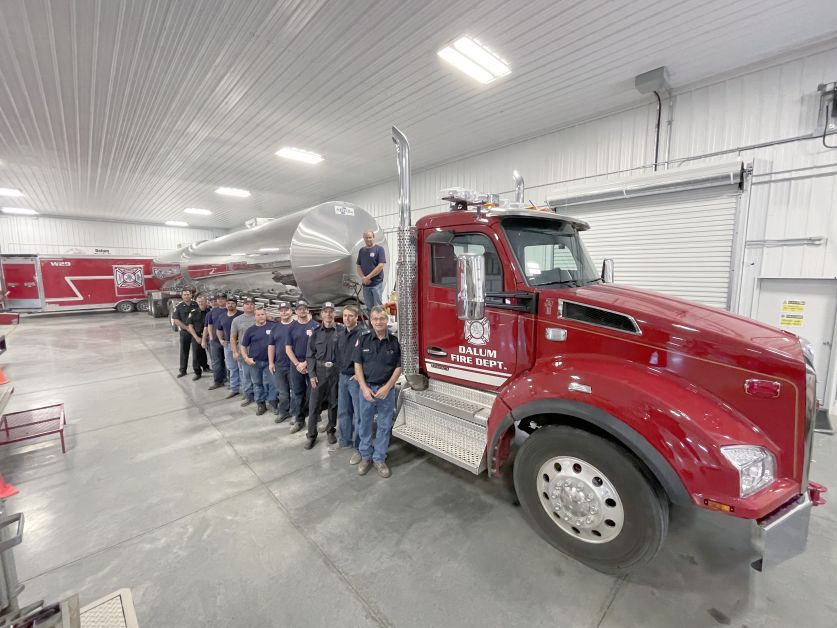 The Dalum Fire Protection Association has been successful in fundraising for a new apparatus and has put its new water supply tender into service.
Water to extinguish fires is crucial for a rural department. While the department has tankers, they typically carry 2,000 to 2,500 gallons. In a rural setting where hydrants are nonexistent and natural water supplies are diminishing, when a tender runs out of water, it has to go searching for a source.
The solution is a modern high-capacity tanker system which will help protect its Fire Protection Area, as well as Wheatland County, and surrounding areas.
The new tender is a tractor unit with a high-capacity tanker. The tanks are insulated so they are ready to use in any conditions, and will have the ability to carry 12,000 gallons of water to help fight fires.
Mike Morgan manager of Emergency and Fire Services for Wheatland County says the tanker was fully supported by the county's capital committee.
"Water supply is such an important factor, and Dalum Fire is stepping up to help support the county, to utilize it in large events, basically it helps protect the county and its residents as a whole," said Morgan.
"A lot of work and effort went into it. The nice thing that we like is the municipality has a lot of departments and the halls have different needs. In this circumstance, water supply can be an issue in the east part of the county and Dalum has basically solved that problem."
He notes that the landscape is changing, with less available water as sloughs dry up.
Dalum Fire Chief Albert Jensen says the unit is not an initial responder but would come on the scene as a supporting unit where tenders would be able to refill and continue the important work of fighting the fire, and potentially saving lives and property.
It was called into service once this summer and performed well.
The tender comes with a price tag of about $875,000 and the Dalum Fire Protection Association is responsible for fundraising for 40 per cent of the cost. Dalum Fire Protection Association is open to further donations to support their efforts.