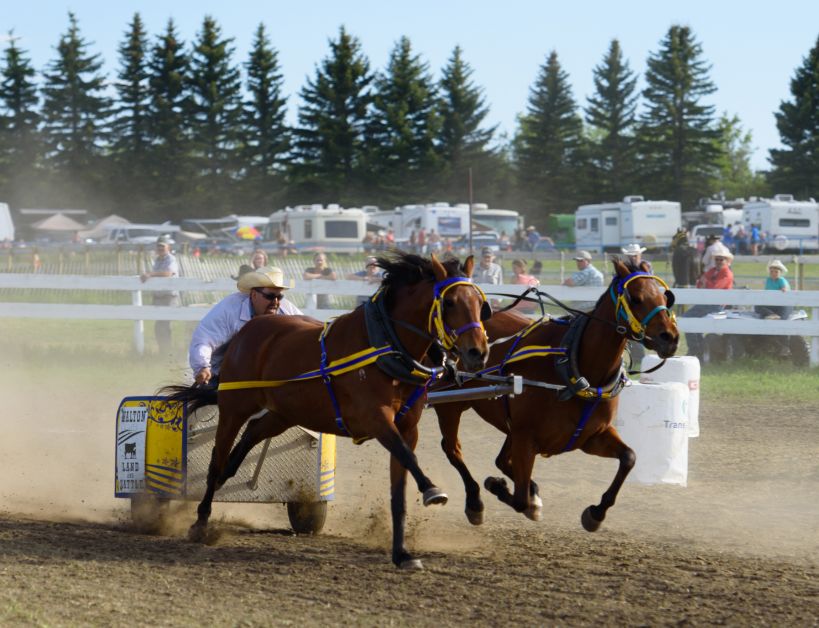 In a tradition 103 years old the Hand Hills Lake Stampede is ready to kick up some dust this weekend.
Billed as the up close and personal rodeo, the Hand Hills Stampede continues to turn heads for fans and cowboys alike. It has won back-to-back Small Rodeo Committee of the Year, and while they continue to keep improving on the event, it's good ol' fashion rodeo action that puts the fans in the seats.
"We don't want to change it up too much," said Hand Hills Lake president Layton Rosin.
The action begins on Friday, May 31 with a pancake breakfast. Rodeo slack goes from 10 a.m. to 3 p.m. the chuckwagons and chariot races go at 6 p.m. The kick-off party featuring Five of Diamonds cranks up at 9:30 p.m. in the beer gardens.
Saturday morning starts up again with a pile of pancakes and the trade show opens at 9 a.m. The wild horse races are at 11:45 a.m. just before the opening ceremonies.
Drumheller-Stettler MLA Nate Horner has been invited as the special guest to open the event.
Right after that, the rodeo begins. The wild horse race is a 4 p.m. and the chucks and chariots are back on the track at 6 p.m. Dance the night away at the Cowboy Cabaret featuring Lisa Dodd and Dandy Little Orchestra.
Breakfast is served on Sunday morning and the trade show reopens at 9 a.m. At 11 a.m. there is a Christian Cowboy church service followed by the wild horse races. At noon the Good Guy Award will be presented. This is the Morris Beck Memorial Award that is given to the most deserving volunteer.
The rodeo performance begins at noon and the day concludes with the chucks and chariots at 6 p.m.