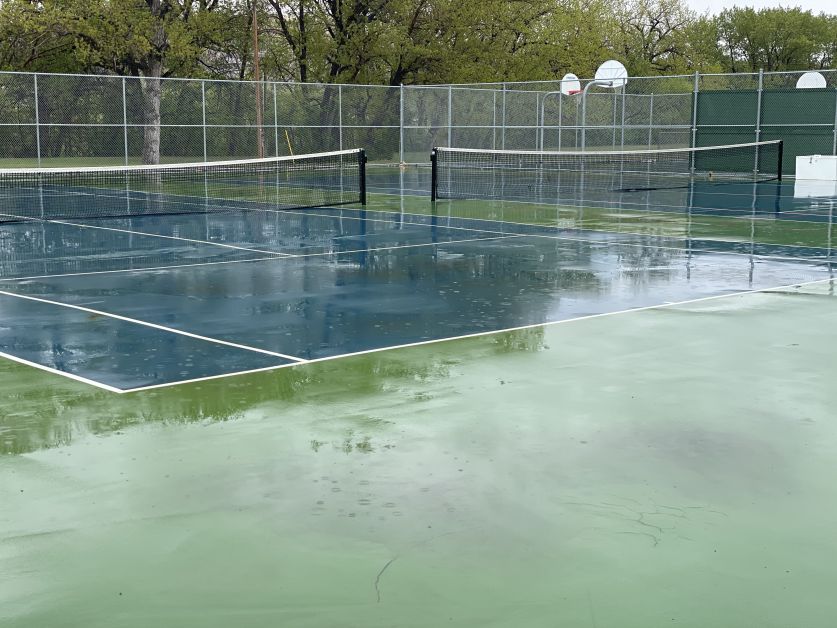 The Friends of DVSS are embarking on another project to make the school facilities better for students and the community.
The Friends of DVSS spearheaded the building of the tennis and basketball courts about seven years ago. Since then, the site has settled and cracked, leaving areas of the court not level and water pools. They are putting together a plan to resurface the courts.
"We are going to strip off the old surface and fill in the low spots so it is all level again and then resurface it. We are going to add lines for two tennis courts and five pickleball courts because we are adding an extra," said Friends of DVSS President Koren McDougald, adding they will also resurface and paint the basketball court.
In its short lifespan, McDougald said it has been a simple yet popular addition to the community. It is well used by the school, especially during the pandemic, with many classes utilizing the space. Summer days also bring out tennis players as well as hoopers playing pick-up. The Pickleball Club also gets on the court, when they can.
"The Pickleball Club has something like 60 members now," said McDougald. "The international students use it, and the school uses it."
To fund the project, they have applied for a Community Facility Enhancement Grant of $422,000 from the province as well as a grant from the Town of Drumheller.
The Friends of DVSS will also contribute funds it has raised.
"Normally, we would be in a strong situation and probably wouldn't have applied for the town grant, but we were supposed to have a casino in February, and of course, they are not having casinos right now," she said. "The surface needs to be done sooner than later."
The court was built about seven years ago, and many from the community contributed as sponsors. At that time, it cost about $314,973, and the town provided about $100,000 of in-kind work.
"It has been a great project involving a lot of different groups," said McDougald.
The Friends of DVSS has been around since 2003 and has contributed to the school in myriad ways, from improving the facility to buying equipment. Typically McDougald says they do a larger-scale project every three years.
Friends of DVSS has contracted Tomko Sports to complete the work. This includes the stripping, site prep, and resurfacing.