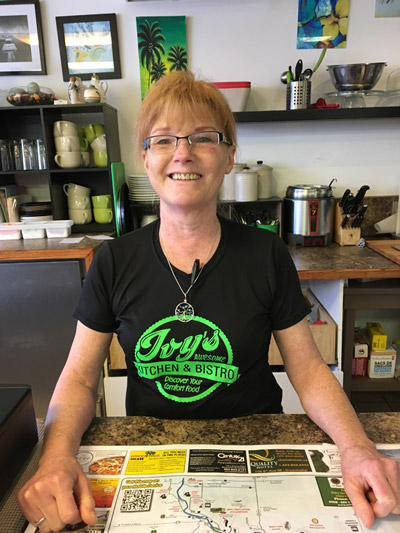 Employer: Ivy's Awesome Bistro. Occupation: Proprietor.
What do you like most about your job? Having the ability to create beautiful food.
Dream Job? I'm doing it.
How long have you lived in the Valley? 4 years.
Where are you from originally? Whitecourt
What do you like most about living here? Friendly people, small town with all the amenities.
What is your top travel destination? France.
What do you like to do while on vacation? Eat and drink wine.
If you could travel through time, when and where would you like to visit? 1920's Chicago.
If you were stranded on a deserted island, what three things would you bring? Music, books, wine.
If you could hang out with anyone, who would it be and what would you do? Rick Mercer, doing stupid stuff.
What sorts of activities do you do around the community? The Humane Society and I support various other events.
Choose one thing to eat for the rest of your life? Potatoes.
Chocolate or celery sticks? Chocolate.
Favourite movies? The Sound of Music.
Favourite Songs? Blurred Lines by Robin Thick.
What would be your theme song? Cindy Lauper - Girl's Just Wanna Have Fun.
What song/sound would you like to play whenever you enter a room? 'Don't Forget Me When I'm Gone' Glass Tiger.
If you had your own band, what instrument(s) would you like to play? Piano.
Favourite Books? The Secret Garden.
What are your favourite games? Crib.
What is the one piece of technology that changed everyone's life, young and old? Electricity.
What are your favourite sports? Football.
Who are your favourite teams? Riders all the Way.
Skiing or snowboarding? Skiing.
What superpower would you want? Time Travel.
Any words of wisdom? Persevere, Never give up, Live your dream.