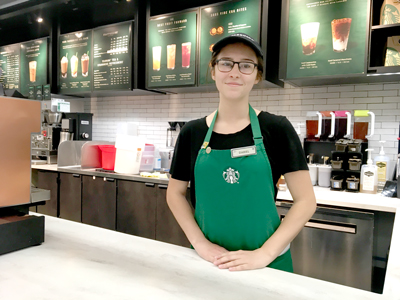 Who Are You?
Dariel Glover
Job:
Barista, Starbucks at Freson Bros.
What do you like most about your job?
Getting to talk to people. I get to give them their coffee and sometimes im their first person they talk to in the the days. I just like making conversations with them.
If you didn't do what you do for a living, what would you be doing?
Veterinarian. I just love animals. I am planning to go to school for it.
Last series on Netflix you've been binge watching?
Colony. It's confusing. Its about these hosts from outer space coming to earth to make them work to fight their enemy.
Favourite fictional character?
I don't really have a favourite. I like Deadpool because it's funny.
Sports team?
I do Stingers Allstar Cheerleading in Medicine Hat.
What's your weirdest habit?
I drink a lot of Starbucks now, the ice chai tea latte.
What's your guilty pleasure?
Anything with chocolate.
What's the strangest thing that's happened to you?
I've been bitten by a deer before. I was at marine land and we were feeding it and it came up and bit me. It hurt!
It's Sunday morning. What are you having for breakfast?
Probably sunny side up eggs with toast.
If you could have one superpower, what would it be?
Telekinesis so I don't have to get out of bed.
If we're buying dinner, you're having…
Anything with pasta. Lasagna is my go-to.
What are your words to live by?
Live every day to its fullest.
Know someone who we should get to know better?
Please give us a call at 403-823-2580 or email news@drumhellermail.com