Who Are You?...
CODY JOHNSTON
Meat Department Manager, Freson Bros. Drumheller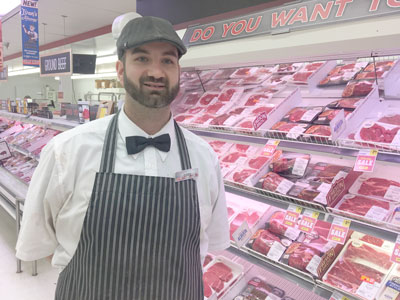 What do you like most about your job?
Probably dealing with people – it's just a satisfaction knowing someone leaves happy with something they've picked or maybe if someone is not so happy to begin with, maybe if they're not satisfied, to have them leave better and with a smile on their face. I like how busy it is and how there is never a shortage of things to do.
If you didn't do what you do for a living, what would you be doing?
Something sports related. When I was younger I wanted to be a sports broadcaster.
Favourite sports?
Hockey and football are my two top ones. If I've got time off or time to kill I'm watching a hockey or football game. My hockey team is the Colorado Avalanche. I grew up in Swift Current and Joe Sakic played his junior hockey there so he was around town and talked about. The Avalanche were a new team and I liked their jerseys, so from there I just stuck with them. For football, this might not be popular, but the Saskatchewan Roughriders.
Who is your hero?
I guess going back to hockey, Jonathan Toews, because I see him as a leader and a selfless guy. I find he's kind of underrated because he's not flashy, but he's just a solid, hardworking guy who I try to emulate myself after. He leads by example and does the right thing all the time.
Last series on Netflix you've been binge watching?
Right now I'm watching 'Shameless.' It's about a dysfunctional family and there's a lot going on. It almost seems unrealistic but it's just good humour and takes your mind off of real life and gets me away from thinking about work.
It's Sunday morning. What are you having for breakfast?
I'm going to have the old bacon and eggs and if I'm feeling adventurous I whip up some french toast. Breakfast is definitely my favourite meal of the day.
If you could go see one concert, who would you see?
Probably right now, I'm a country music fan, I really like Luke Combs. But I would have liked to have seen the Tragically Hip before that was over.
What's your weirdest habit?
I'm sure I've got many… I'm really the most weird about using q-tips – if I have a shower I have to use
q-tips.
What's your guilty pleasure?
I don't know if it'd be a guilty pleasure but I like those kombuchas. I get a lot of flak from coworkers but I just really enjoy those. I like to think I notice a difference.
If you could have one superpower, what would it be?
I'd probably travel back in time. I'd probably just go back forty years to when my grandpa was alive and get to spend some time with him on the farm.
If we're buying dinner, you're having…
We're having a ribeye steak, baked potatoes with all the fixings, some caesar salad, and we're going to have a little garlic toast with that.
What are your words to live by?
I guess one of the things, a lot of people ask me here 'how's it going,' and one thing I'll say is 'living the dream.' It's more about the mentality or your mindset. If I can tell myself that living the dream is that everything is awesome, then keeping that positive mindset is the first step to having a good time or good attitude. One of the things I say to coworkers or friends is 'it can always be worse.' If you're ever having a hard time, think about it for a second and realize it can always be a lot worse, no matter what you're going through.