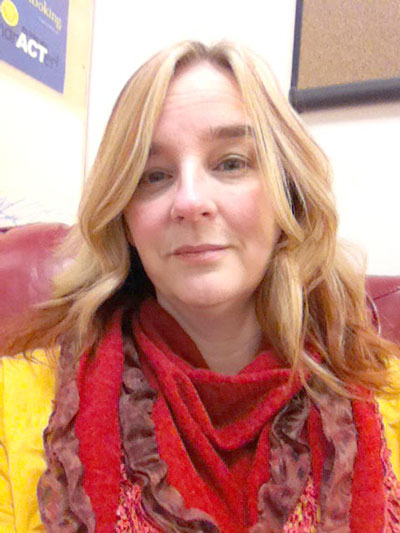 Age: 46
Employer: St. Anthony's School.
Occupation: Family School Liaison Worker / Art Therapist.
What do you like most about your job? That I get to see the world through children's eyes every day.
How long have you worked there? 13 years.
What was your very first job? Bishop's University Book Store: Reconciling accounts using an adding machine…all day!
How long have you worked in the Valley? 14 years.
Where are you from? The Eastern Townships in Quebec.
What do you like to do while on vacation? Wander aimlessly!
If you could travel anywhere in the world where would it be and why? Africa so I could go on a Safari.
If you could travel through time, when and where would you go? New York City in the roaring 20's.
If you were stranded on a desert island and could bring three things what would they be? Gin, Tonic, and ice. I assume there will be lemon trees.
Who has the biggest influence on your life? My grandmother.
Favorite movie? The Usual Suspects.
If your life had a theme song what would it be? "What it's Like" by Everlast.
Favorite book? The Art of Racing in the Rain by Garth Stein.
Favorite food? Baguette, cheese and wine.
Ski or snowboard? Both – while watching from the window of the lodge.
Favorite winter outdoor activity? Sugar on snow.
Favorite season? Autumn, especially in Quebec.
If you had to go without one of these two things what would you give up, cell phone or microwave oven and why?
I would be happy to give up both.
Any words of wisdom that you live by or like to share? "Pain is inevitable, Misery is optional".