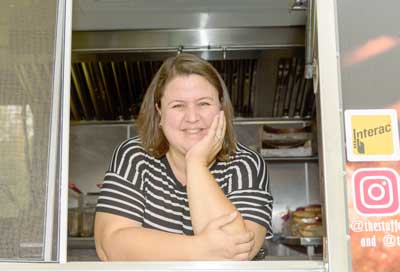 Who are you? Tara Scott
Where are you from?
Drum. That's where we live.
Who is your employer?
I own The Stuffed Kilt.
What is your occupation?
Let's see… Owner, manager, cook, cashier, do it all gopher. Pretty much everything.
What do you like most about your job?
Making people happy and filling tummies. Being your own boss is always just the most amazing thing in the world because you set your own hours. You don't have to worry about the hierarchy or the politics of somebody else's company.
What is your dream job?
A travel writer or a travel food critic. Anything that has to do with travel.
How long have you lived in the area?
I have been here just over seven years.
What do you like most about living here?
I like the small town feel, I like that we're close enough to Calgary that going in for a day trip isn't a big deal and then we can come home. We don't have to stay. I like the small town feel– that everybody knows everybody although there is downsides to that too.
What do you like to do while on vacation?
Sit, put my feet up, and do nothing. As long as I get a few days of doing nothing, the rest of the time I like to explore, I like to see where I'm going and to see the local culture. See all the stuff they have to offer.
What are your top three travel destinations?
Hawaii would be my number one, and then basically anywhere in England. We just got back from Florida and it was pretty awesome too.
What sort of activities do you like to do around the community? We do a lot of walking along the river and take our kid bike riding and stuff like that. He likes to hike a lot so we've been through the Horseshoe Canyon and the Horsethief Canyon and up the Hoodoo's. Even just driving around.
If you could travel through time, when and where would you like to visit?
The roaring thirties and twenty's before the depression were so much fun. You look back and I mean we go by what we see in movies and TV right so I'm sure being an actual person of the twenties or thirties probably wasn't what we think it is. Just the women's fashion and how it was so much more progressive back then.
If you could hang out with anyone dead or alive, who would it be?
To actually meet Princess Diana and see who she really was. Not the princess in her but the actual person.
Choose one thing to eat for the rest of your life? Mac and Cheese.
What is your favourite movie?
The Sound of Music. I would watch that every day.

If you were making a movie about you, which actor would play you?
Rosie O Donnell because of the looks but not the lifestyle.
Skiing or snowboarding?
Skiing. I'm a two-planker, not a knuckle driver.
Lastly, what are some wise words of wisdom for everyone?
Learn to treat people the way you want to be treated no matter who they are and learn how to manage your money.