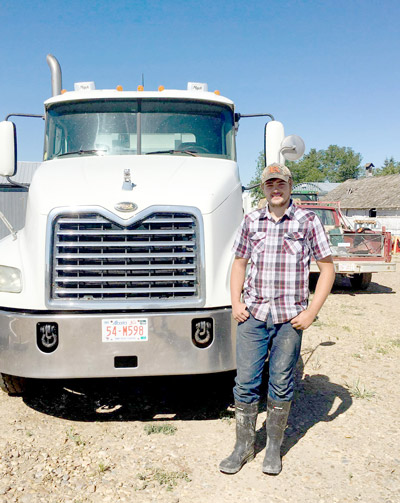 Who are you? Kody Kopjar
Employer: Brian and Jerry Kopjar.
Occupation: Young starting farmer.
What do you like most about your job? Everything – Playing in the dirt.
Dream Job? Farming, living the dream.
How long have you lived in the area? 20 years and counting.
What do you like most about living here? The freedom to do whatever you want.
What do you like to do while on vacation? Ride my motorcycle and play baseball.
If you could travel through time, when and where would you like to visit? Here in the 1950's, everything was just cooler back then.
If you could hang out with anyone, dead or alive, who would it be? Ozzy Osbourne. He knows how to party.
What sort of activities do you do around the community? Baseball and contribute by shopping locally
Choose one thing to eat for the rest of your life? Steak and eggs.
Favourite movie(s)? Star Wars.
If you were making a movie about you which actor would play your part? Johnny Knoxville.
Favourite Song? Hells Bells by ACDC.
If you had your own band, what instrument would you like to play? The Guitar. I was in a band.
Favourite sport? Baseball
Skiing or snowboarding? Snowboarding.