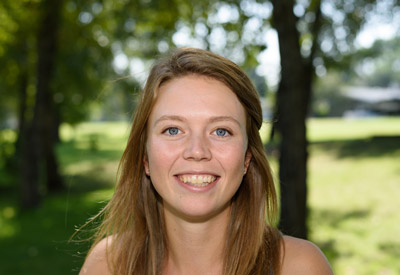 Who are you?
Teanna Moar
Who is your employer?
Town of Drumheller.
What is your occupation?
Town Hall Assistant.
What do you like most about your job?
Air Conditioning, snacks, and meeting people.
What is your dream job?
Sheep Farmer.
How long have you lived in the area?
22 years of my life. My whole life.
What do you like most about living here?
The river because there's lots of fun stuff to do on the river in the summer time.
What do you like to do while on vacation?
Usually hiking or walking. Also seeing the area or trying new food.
What are your top three travel destinations?
Norway, the Orkney Islands, and Denmark.
What sort of activities do you like to do around the community?
I like to run and kayak down the river and go for walks.
If you could travel through time, when and where would you like to visit?
I would want to go to the 1920's. I'd like to be here when people first came to the area. I think that would be really cool.
If you could hang out with anyone dead or alive, who would it be?
Mr. Bean. Hands down. He's a beauty.
Choose one thing to eat for the rest of your life?
Mexi fries at Taco Time. Potatoes are so versatile.
What is your favourite movie?
Kungfu Panda.
If you were making a movie about you, which actor would play you?
Probably Mr. Bean. Just put a wig on him and we'd be the same.
Favourite Song?
Jesus Take the Wheel by Carrie Underwood.
What is your favourite sport?
Volleyball.
Skiing or snowboarding?
Skiing.
Lastly, what are some wise words of wisdom for everyone?
Never scrub the toilet with your mouth open.