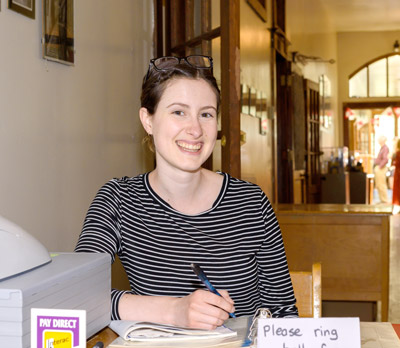 Who are You? Jasmine Manning
Who is your employer? Barb Steeves
What do you do here at the East Coulee School Museum? Kind of a mix of things. I'm a heritage interpreter and also act as a teacher that gets to be mean to the kids and help out in the cafe sort of thing, sort of a hodge podge of jobs.
Where are you from? Drumheller, Alberta.
How long have you lived here? I lived here until I was 17 then I went to school in Saskatoon and I still attend now and I've been in Saskatoon for about six years, coming back every summer.
What are some of your top travel destinations? I'd love to go to Switzerland, I've got family there.
What do you like to do while on vacation? Taste the chocolate.
Choose one thing to eat for the rest of your life? Sweet Potato Fries. I love them.
Do you have any favourite books? Harry Potter, I've got a Harry Potter tattoo so it's Harry Potter all the way.
If you had a superpower, what would you have? I'd like to be the wolverine, you know be like his daughter. I meant the last movie was horrible but I'd like to be the daughter and have the spikes in my toes and hands and live forever or at least for a long time.
If you could sit with someone for dinner, dead or alive, who would it be? James Herriot, I really like him. He was always a big inspiration to me growing up.
Lastly, do you have any words of wisdom for everyone? You can always start over.
Know someone who we should get to know better?
Please give us a call at 403-823-2580 or
email news@drumhellermail.com