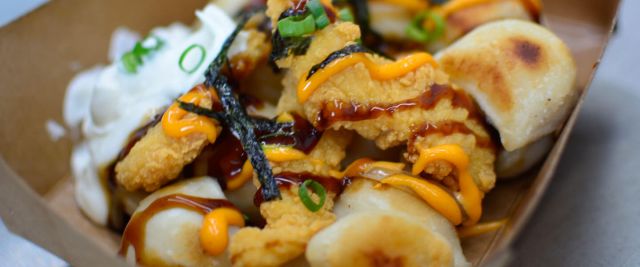 Are you going to this years Calgary Stampede? If so, check out some of the award winning new treats and sweets on this years midway.
Press release - Calgary
With the help of 10 celebrity food judges, the Best New Food on the Midway in the Savoury and Sweet category were determined, with International Perogies's Teriyaki Chicken Perogies and Deep Fried Coffee's Salted Caramel Deep Fried Coffee winning their respective category.
The Teriyaki Chicken Perogies wowed the judges and claimed a dominant victory. Bite size cheese cheddar and potato perogies are lightly pan fried with butter and given the Teriyaki twist. Garnished with sautéed onions, sriracha mayonnaise, sweet ginger teriyaki sauce, green onions and crispy chicken breast strips, then topped off with seaweed. If Teriyaki isn't your thing there are five other international flavours to choose from.
In the sweet category, it was a close win for Deep Fried Coffee's new delicacy. Fresh hot deep fried coffee treats drizzled in caramel and Himalayan sea salt. Perfect for your salty, sweet cravings! Five different flavours to get your morning fix.
Both were presented with the Best New Midway Food plate to display for the duration of Stampede.
The judging panel was made up of Hunter Shinkaruk (Calgary Flames), Connor Rankin (Calgary Hitmen), Mookie Wilson (KISS 95.9), Kodette LaBarbera (TV's Hockey Wives), Rebbeca Johnston (Calgary Inferno), David Ford (Former Olympic kayaker), Kelly Vanderbeek (Former Olympic ski racer), Jan Hansen (Executive Chef, Hotel Arts) and Kim Hayden (Kim's Kitchen).
You can find these tasty treats on the Midway at Stampede Park July 8-17. For a full list of the 43 new foods, visit: http://www.calgarystampede.com/stampede/attractions/food To find new foods at the Calgary Stampede, download the official app. Follow along with 'best of' food categories contests all week by using #csfoodie on Twitter and Instagram.
About the Calgary Stampede
The Calgary Stampede celebrates the people, the animals, the land, the traditions and the values that make up the unique spirit of the west. The Calgary Stampede contributes to the quality of life in Calgary and southern Alberta through our world-renowned Stampede, year-round facilities, western events and several youth and agriculture programs. Exemplifying the theme We're Greatest Together; we are a volunteer-supported, not-for-profit community organization that preserves and promotes western heritage and values. All revenue is reinvested into Calgary Stampede programs and facilities.