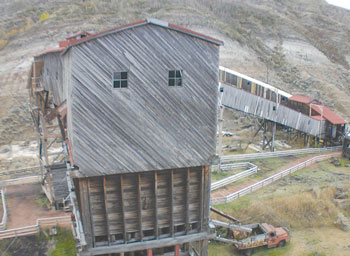 The tourism season officially began in Drumheller with the Victoria Day Long Weekend, and the Atlas Coal Mine National Historic Site is hoping for another strong season.
Over the last decade, the visitorship to the Atlas Coal Mine has grown annually. Atlas Coal Mine curator Jay Russell is confident this trend will continue.
"So far we have been on par with previous years," said Russell, adding that on Thursday night before the long weekend the convoy of RVs coming to valley has already began.
"I am really exited, that every year we have this conversation, and feel we are going to have excellent year," he said.
Some of the indicators that make Russell feel confident in the upcoming season is simply the word is getting out about what the Atlas has to offer. This is reflected in the number of schools groups booked in the short spring season.
"I have a good feeling, there are a few good indicators. I know it is really early, but we are full to the rafters with school groups, we almost have no room left for school groups, so it is a really big change form previous years," said Russell.
There are a number of factors that could contribute to the upcoming season. This includes the economy. While at first blush, many may feel that holidays might not be in the cards for families, it may be the case where families might be staying closer to home and taking an "Alberta Break."
"My sense is even when there is economic uncertainty, people still need to get away from it all, go somewhere and have a good experience," he said. "Even in difficult times, people need to do some quality things with friends an family. What we will probably experience is more stay-cations."
"With the Canadian dollar where it is, that might mean more Americans or other visitors will come to where it is affordable.
The Atlas has made a few changes to it operations this season. Rather than scheduled train tours, this season they are included with the general admission.
"Instead of taking a train tour, you get a train ride. On long weekends, we are going to have "Open Atlas, so you pay one price and you get to do pretty much everything.
The Atlas will have is usual cast of period characters on site, including a new one "Mona the Mine Secretary.
"She is coming back with a vengeance, and she is grumpier than ever," laughs Russell, adding that the characters will use stories from former employees at the Atlas.
The Atlas is on its spring hours from 9:45a.m. to 6 p.m. daily.