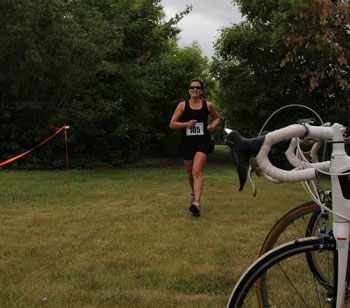 The annual Drumheller Dinosaur Trail Triathlon looks like it might have its best year yet.
The 4th annual race that combines swimming, biking and running will take place on Saturday, June 6 at the Drumheller Aquaplex.
"We are filling up like crazy," said Morgan Syvertson who is organizing the event. "I am really surprised at how popular this has become."
Two races will be taking place concurrently, Syvertson said. At 9 a.m., the Olympic Triathlon will begin. This race will include a 1500 m swim (60 lengths of the pool), a 40 km bike ride, and a 10 km run.
The second race will begin at 9:30 a.m. called the Sprint Triathlon and will include a 750 m swim (30 lengths of the pool), a 20 km bike ride and a 5 km run. Both individuals and teams are entered in the race Syvertson said.
"We have almost 50 (people) right now, which is 20 more than last year," Syvertson said.
The first year the race had about 10 participants, he said, the second year about 20, and last year about 30.
"It is growing by leaps and bounds," he said continuing by saying that some of the swim club members are participating, the youngest being 12 years old.
"We have a real mixed bag of people and everybody is really excited. It is going to be a fun, fun day," he said.
For more information about the race visit the Drumheller Dinosaur Trail Triathlon Facebook page or contact Syvertson at drumhellertriathlon@gmail.com.
Registration is open until the day of the race, however Syvertson said if those wanting to participate would like a t-shirt, he needs this information by this weekend.