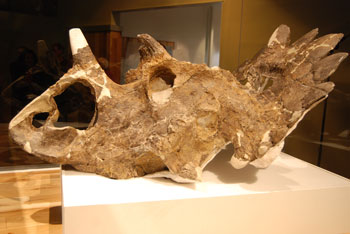 The Royal Tyrrell Museum of Palaeontology unveiled a new species of horned dinosaur on Thursday, June 4.
The Regaliceratops peterhewsi is a newly described genus and species of ceratopsid, meaning horned dinosaur that lived during the late Cretaceous period - 68.5 to 67.5 million years ago. It is a close relative of the Triceratops.
Peter Hews, a Calgary resident and geologist in the petroleum industry discovered it in 2005. It is from southwestern Alberta near the Oldman River, Dr. Caleb Brown, Post-doctoral Fellow for the Royal Tyrrell Museum, explained at the presentation. He said this was odd because most of the dinosaur discoveries come from southeastern Alberta.
It took 10 years to prepare the Regaliceratops peterhewsi to be unveiled to the public, Dr. Brown said.
"That was a combination of reporting it to the museum, excavating the specimen, preparing it to what you see in the lab, removing it from the rock, consolidating it, making it stable, and the research," he said continuing by explaining that this is a bit of an exception because normally it does not take that long.
"It was a particularly problematic specimen, but we also want the public to get an appreciation for how much energy is involved, and how much time is involved by taking a specimen from the ground, putting it on display and also making it available for research," he said.
The unveiling of the Regaliceratops peterhewsi was part of the opening of the museum's new exhibit called "Fossils in Focus." The exhibit is rotating and will highlight some of the most remarkable and scientifically significant fossils from Alberta.
Dr. Craig Scott, curator of fossil mammals, said when putting the exhibit together, the museum wanted to focus on a diversity of fossils. Dr. Scott said one of the things the museum desired was temporary exhibit space. He said in some of the larger galleries at the museum some of the same exhibits have been on display for a long period of time.
"We thought if we had a smaller exhibit in a very confined space, where we could have maximum flexibility it would be easier to rotate specimens in and out and give return visitors something new to look at every time they come," he said.
Dr. Scott explained that the museum has committed to rotating the exhibits annually, "but, should a really amazing specimen be discovered, say during this season, we have the ability to move parts of that exhibit out, and replace it with something that has been recently discovered, or if we have specimen that has been the focus of research that is going to be published in the near future, we can put those in as well."
The exhibit is now open to the public.