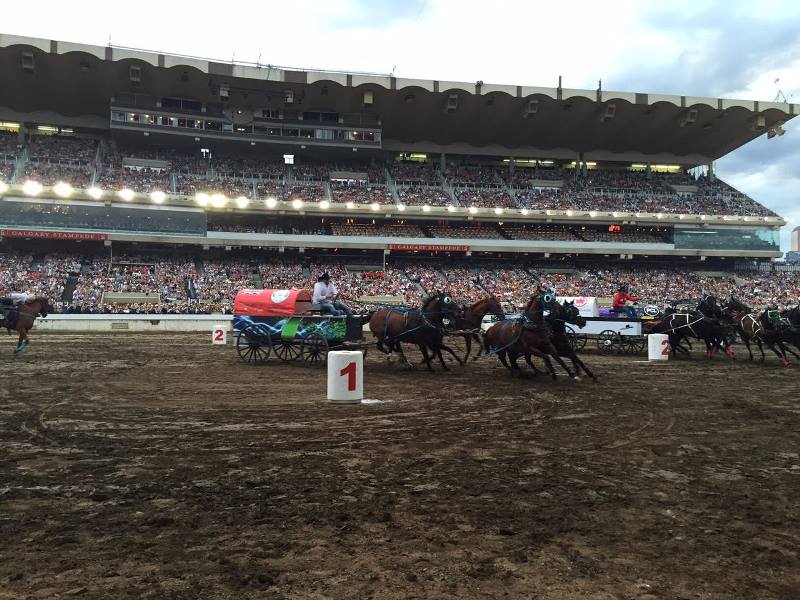 Pictured above: Kurt Bensmiller in the 9th heat at the 2015 Rangeland Derby Final
From Bucking Bronco to Brontosaurus, Drumheller receives an extra boost of tourists the first couple of weeks in July as tourists plan their trip through the badlands to the Calgary Stampede, as after surviving the Stampede heat, families head to Drumheller to survive the dinosaurs in the Valley.
Every year the Calgary Stampede expects to draw approx 1.3 million people through the grounds between July 3 and 12.
The Calgary Stampede is a mixture of cowboy culture, country music, midway rides, and tasty midway foods like this year's Lobster Corn Dog and other delicious treats. We found this great blog describing all of the unique foods available this year. http://blog.calgarystampede.com/2015/04/30/2015s-new-midway-foods-are-waiting-for-you-the-midway-champion/
This year, Kurt Bensmiller won the 2015 Rangeland Derby Chuckwagon Race, winning the $100,000 cash prize.
The next Greatest Outdoor Show on Earth is July 8-17, 2016.
For more information on the Calgary Stampede go to www.CalgaryStampede.com