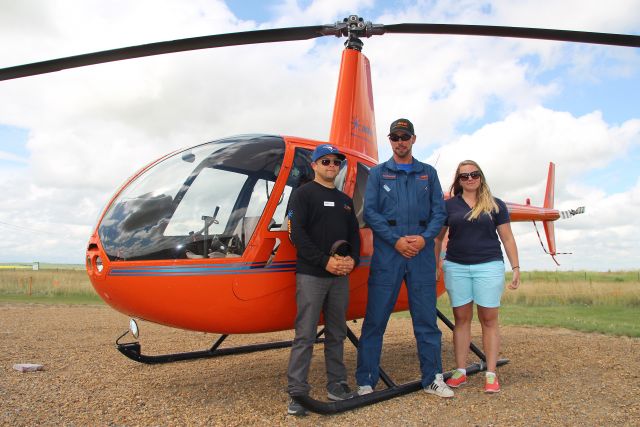 "It's like spinning a plate on a pair of chopsticks," says Mountain View Helicopter pilot Ryan Fornataro as he rocks his helicopter back and forth 1,000 feet over Horseshoe Canyon.
Fornataro steadies the aircraft before taking it on a bend so I can look out the bubble windows. Even though we're travelling over 150 kilometres an hour, the canyon seems to open up slowly and expand as we cruise over it, revealing the "U" of the horseshoe before the earth narrows into a complex network of ravines that make up Kneehill Creek and the Red Deer River valley. On the flats above this gouged earth is a patchwork of green and yellow fields of barley and canola that's sure prettier from a helicopter than it is an airplane.
While the view from a 10-minute helicopter tour on a Friday morning was the highlight of this reporter's week, it's a regular day on the job for Fornataro and the crew at Mountain View Helicopters located at Horseshoe Canyon.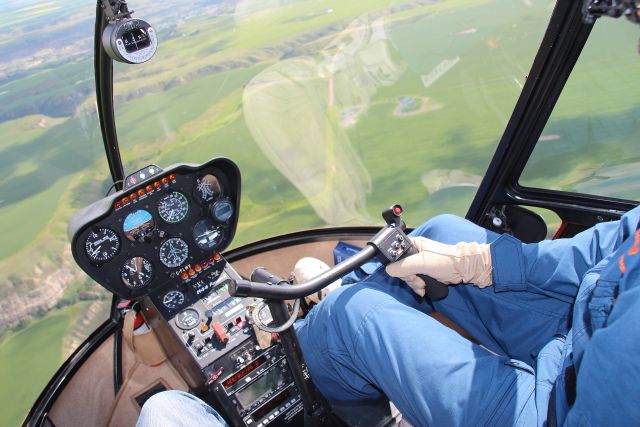 "I'm living the dream and I never get bored of waking up every day and coming to work," said Fornataro, who decided when he was 19 years old and getting flown in and out of work on the oilpatch that he didn't want to walk on the ground anymore – he wanted to fly.
Years later he finally chased that dream down, got his license, and started training sessions with Mountain View Helicopters, who afterward offered him a job flying tours above Horseshoe Canyon over five years ago.
Mountain View flies a Robinson R44 Raven II on their tours, a popular model for general charter, surveying, and training. While they operate the five and ten minute Horseshoe Canyon tours from June to September, the company provides training for pilots and prospective pilots during their offseason.
While we're flying a thousand feet in the sky, pilot Fornataro tells me through the headset radio that part of his regular training is to kill the engine mid-flight and then regain control of the aircraft and the thought of hanging in midair before dropping makes me sick.
"It's something we just have to do – being a pilot is all about 'what-ifs.' What if the engine dies? What if it catches on fire?"
All of the crew at Mountain View have their dream jobs, but they didn't come without hundreds of hours of training like this which enables them to operate tours safely and provide an unforgettable experience to tourists making their way out to Drumheller.
"Seeing kids bouncing afterward makes it worth it alone," said Mountain View's Larissa Akkermans. "Your passion for flying is made stronger when you see people getting excited about what you do."