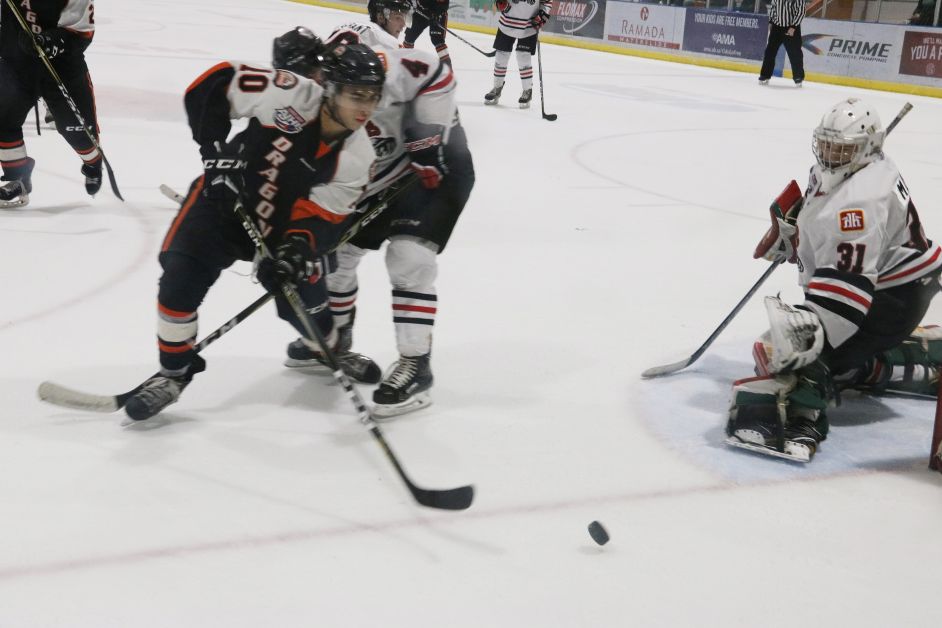 The Drumheller Dragons picked up three of a possible four points over the weekend with a win over Whitecourt and an overtime loss in Camrose.
The Dragons hosted the Whitecourt Wolverines on Friday night, February 2, in front of 569 fans.
They jumped out early and Brady Risk scored on the power play six minutes in, and then three and half minutes later, Alex Rotundo connected to put the Dragons up 2-0.
In the second period, Jordan Taupert scored his first of the game at the 2:11 mark, and followed this up with his second, with three and a half minutes left in the period on the power play. The Wolverines scored late in the second to end the period 4-1.
The Dragons outshot the Wolverines 14-7 in the third period. Taupert completed his hat-trick with a minute and a half left for a 5-1 final score. Rotundo had two assists along with his goal.
The action continued on Saturday night, February 3, when the Dragons travelled to Camrose to take on the Kodiaks.
This time Camrose jumped out into the lead in the first period, but Brett Edwards tied it at the 15:43 mark on the powerplay. In the second period, again the Kodiaks took the lead briefly before Jordan Taupert scored to end the period tied at two.
After an even third period, the game went into overtime and Camrose scored the winner just 42 seconds in.
The Dragons faced off in Calgary versus the Canucks on Tuesday, February 6, results not available at press time. This Saturday, February 10, they're back on home ice to play the Fort McMurray Oil Barons.