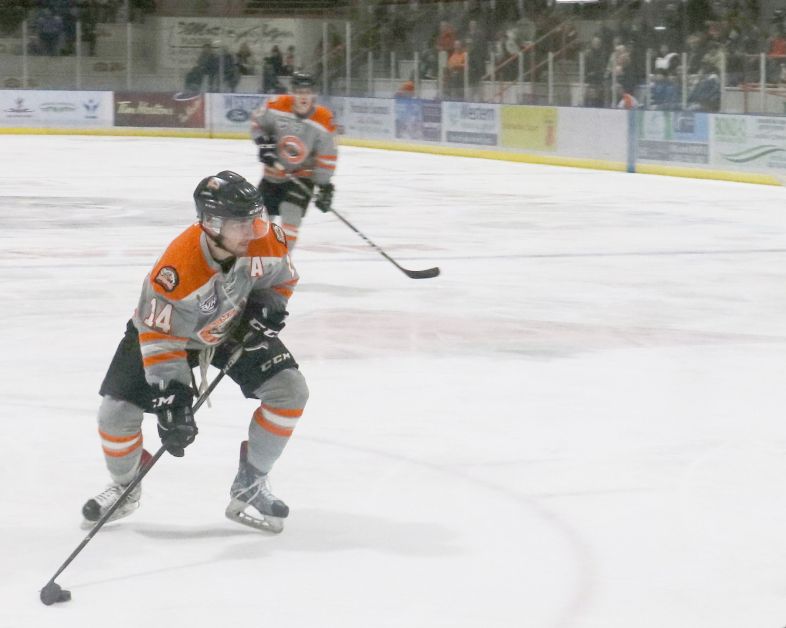 The Drumheller Dragons started the week strong with an at home blowout versus the Calgary Canucks but dropped three on a busy road trip up north.
On Tuesday, December 5, the Dragons hosted the Canucks and Star of the Game Alex Rotundo scored on the powerplay, his first as a Drumheller Dragons, in the first period to take the early lead. In the second period, the Dragons lit up the Canucks with a second power play goal from Tyler Kreklewich, a goal from Braydon Nicholetts and then Rotundo scored his second.
The scoring continued in the third period with Brett Wieschorster finding the net 5:45 in. The Canucks finally scored at the midway point, but Brett Edwards scored and Kreklewich got his second to end the game 7-1.
Over the weekend, the Dragons were on the road but were without Derrick Budz when they took on the Fort McMurray Oil Barons on Friday, December 8. Budz was serving a three-game suspension for a gross misconduct.
The Dragons outshot the Oil Barons 39-34, but Fort McMurray shut out the Dragons winning 4-0 in a physical battle.
On Saturday, December 9, the Dragons were in Bonnyville to take on the Pontiacs.
Again, the Dragons outshot their opponents 37-28, but the Pontiacs jumped out 2-0. Andrew Kartusch scored to end the first period down 2-1. In the second period, the Pontiacs scored 2:50 in, but then Tyson Scott answered back to end the second down 3-2.
The Pontiacs owned the third period with three goals to win the game 6-2.
On Sunday afternoon, the Dragons were in Lloydminster to take on the Bobcats. After a scoreless first period the Bobcats went up 2-0 in the second period, and built on their lead in the third period and were up 4-0 before Scott found the net with 1:20 left in the game. It was too little too late as the Dragons went on to lose 4-1.
The Dragons have only three games before the Christmas break. This Friday, December 15, they are at home to take on the Sherwood Park Crusaders and then the Grande Prairie Storm on Saturday. On Tuesday, December 19, they are in Canmore to take on the Eagles.