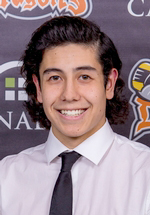 There is a familiar face back on the ice for the Dragons as Bradley Stonnell, puts his black and orange jersey back on.
Stonnell was an integral member of the Dragons roster in the 2016-2017 season, racking up 12 goals and 26 assists in 58 games.
Stonnell headed south to Cedar Rapids to play for the RoughRiders in the USHL for the 2017-2018 season. He had a goal and an assist in 16 games. He has returned to the valley and is back on the Dragons' active roster.
"Bradley is a welcome addition to our roster," said coach Kevin Hasselberg. "He is familiar with all the players and his transition back into the room should be effortless. He will impact our back end and start contributing immediately."
Stonnell is a 19-year-old defenseman with keen offensive skills. Originally from Surrey, British Columbia, he played one game with Surrey Eagles of the BCHL and played his midget hockey with Valley West Hawks.
Coach Hasselberg sees the addition of Stonnell as a positive for Stonnell and for the Dragons.
"We are excited to add Bradley and begin working with him to get him to the college level", said Hasselberg.