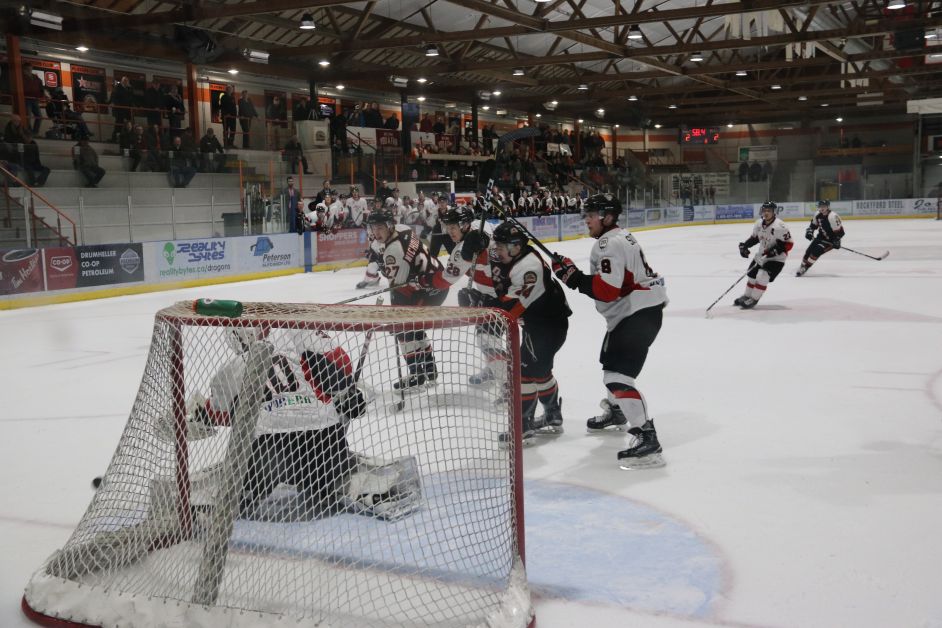 The Drumheller Dragons are showing continuous improvement after a strong week where they earned three out of a possible six points.
The Dragons were at home on Tuesday, January 16 to host the Camrose Kodiaks. After a scoreless first period, Nate Keeley put the Dragons on the board. Camrose answered back however with two quick goals to end the second period up 2-1. The Dragons' Ryan McBeath scored his first as a Dragon just 2:47 into the third period to tie the game. Drumheller kept the pressure up, outshooting Camrose 10-7, but the game went to overtime and then a shootout. It took nine shooters before Camrose took the win.
"We liked the effort and probably deserved a better result," said Coach Kevin Hasselberg.
On Friday, January 19, the Dragons travelled to Olds to take on the Grizzlys, and it didn't take them long to flex their muscles. The Dragons jumped out to 3-0 with two goals from Alex Rotundo and one from Tyson Scott. The Grizzlys made it onto the scoreboard seven minutes into the second, but the Dragons' barrage continued with Brett Edwards, McBeath, and Derrick Budz all scoring in the second.
Rotundo finished his hat trick at the 11:19 mark of the third period to go up 7-1. Olds added two more goals but it was too little too late.
"I really liked our game against Olds, they are struggling and I think our guys played with confidence and just had fun," said Hasselberg. "They were moving the puck and were ahead of their game and pucks were going in the net for us. The players had a whole new sense of enthusiasm which was really good to see."
The Dragons finished off the weekend on Saturday night with a trip to Okotoks to take on the league-leading Oilers. This time Oilers didn't waste any time and went up 4-0 in the first period. Andrew Kartusch scored the lone goal in the second period unassisted. In the third, the Oilers scored two to the single powerplay goal from Jordan Taupert as the Oilers went onto a 6-2 win.
"Our guys came out really good and had that same sense of urgency and enthusiasm (as in Olds)," said Hasselberg.
"Playing against the Oilers, they can score quickly on you and they got a couple goals on us, and at that point, we were chasing the game, things tightened up again. Obviously, it is a little harder on the guys' mentality to pull through in situations like that, but there was still a lot go good things in that game.
This Saturday the Dragons host the Calgary Mustangs, and they return the favour on Sunday.