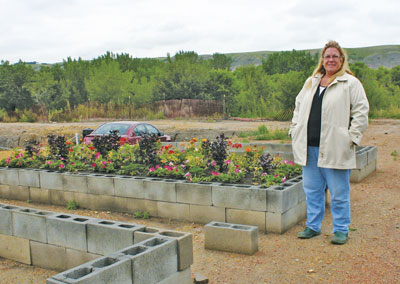 The Community Garden is coming together for next season, but it needs volunteers to make it a reality.
ld its official ribbon cutting in May of this year. DARTS has allowed the group to use a parcel of land and the Town of Drumheller has installed water amenities on the site in preparation of the growing season.
Trish Parker of Communities in Bloom says the garden has been a real community effort, with many groups, and agencies pitching in. They plan to have garden boxes, which members of the public can use for a growing season. They also plan to line the property with fruit trees and bushes.
The site will have a seating area and demonstration garden for education. At the rear of the property on Newcastle Drive there will be a compost heap as well as an area for tools. Outlaws in Rosedale have even donated a garden shed for the site, and the Drumheller Co-op is helping to transport the structure. In the plan, there is even a double sized plot for the local food Bank.
The site has slowly begun to take shape. The Drumheller Institution has donated skids of cinder blocks to build the garden plots, and inmate labour has assembled a few on site.
For the project to continue Parker says there is a need for volunteers to complete building the boxes and other site work. Memberships for the Badlands Community Garden Society are available. The Society meets every first Thursday of the month at the Civic Centre.
One other very important component for the garden to come together is soil. The society is beginning a campaign to secure the funding to purchase fill for the garden. Parker says they need in the area of 50 yards of soil to fill the plots and complete the site work.
The society is also looking for garden tools to keep at the site.
For more information on the community garden, contact Chris Marion at cmarion@yknet.ca.