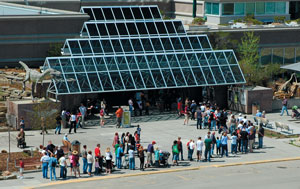 The Royal Tyrrell Museum enjoyed one of its best seasons ever, and it looks like the momentum has continued, judging by the incredible Family Day turn out.
    The museum offered free admission on Family Day, and literally thousands took advantage of the opportunity to discover and rediscover the museum.
    Leanna Mohan, marketing coordinator for the Tyrrell, tells The Mail there were more than 3,200 visitors on Family Day.
    "It was the highest attended Family Day in the last 10 years," said Mohan, "and 500 visitors were locals."
    "Last year was a record breaking year for us and for Family Day we had almost one-third more visitors than last year."
    Overall, it was reported last summer the Tyrrell was at a 15 year high in attendance. The August long weekend saw 17,741 visitors alone.
    Those numbers do add up, and the Museum is anticipating its 10 millionth visitor this coming summer.
    This year the museum is celebrating its 25th anniversary.