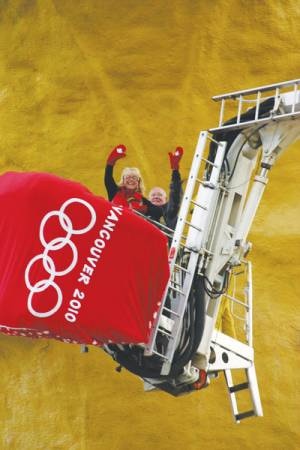 The gloves are off, and now there may be some friendly fisticuffs as to who will claim ownership of the gargantuan gloves.
Sliding a bright red pair of mittens onto the claws of the World's Largest Dinosaur put Drumheller on the map as part of its Olympic Torch Celebrations. On Tuesday night, the Drumheller Fire Department removed the mittens.
Now the gloves will be on the auction block in support of the Badlands Community Facility.
Tara Semchuk, of Bit's and Pieces, constructed the mittens that helped kick off the National Red Mitten Campaign. She confirms that the giant red mittens will be listed on eBay to be sold to the highest bidder.
"We chose the community facility because it is sports related," said Semchuk.
She explains they were looking at how best to support the sports community in the spirit of the Olympics, and came to the conclusion the recreation facility would be almost universal in supporting a number of different groups.
"How do you pick one sporting group over the others? The community facility will be used by all groups in town," said Semchuk.
They have no idea what the mittens will fetch, but one indication revealed when the mittens came down, demonstrates they may be a hot commodity.
The Fire department found a sizable barbed fishing lure lodged in the mitten, giving the appearance that someone may have already been trying to hook themselves a prize.
The mittens are being cleaned and prepared, and they hope to have them listed by next week. The mittens are 3 metres long and 1.8 metres wide.