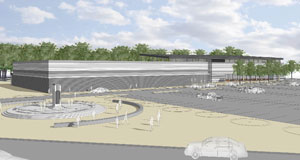 After more than a year of planning and anticipation, Drumheller residents will be able to get a look at what the Badlands Community Facility will look like.   
    An open house has been scheduled for Wednesday, March 10 at the Civic Centre. This is a chance for the public to get a glimpse of what the new facility will entail. Chair of the design committee Brooke Christianson said they have been busy consulting the community and identifying how to accommodate all the needs of the community. Last summer they began working with the architect to come up with a plan.
    "We are to the point that we have full drawings for floor plans and renderings for the outside of the building, and a master plan for the site," said Christianson.
    The plan includes an expanded Public Library, a banquet and conference facility, a field house, multi purpose space that can accommodate everything from indoor soccer and lacrosse to basketball, and volleyball. There will be an indoor running track as well as a fitness area spread over two levels.
    "The foot print of the building is not going to change. We have a really good idea of how it is going to look. We are at the point of picking colour schemes," said Christianson.
    The open house is from 7 p.m. to 9 p.m. at the Civic Centre.
    "We encourage people to come out," he said, adding there will be a forum for the public to leave comments and questions.
    In attendance will be architects from Graham Edmunds Cartier to explain the design of the facility as well as members of the design committee.