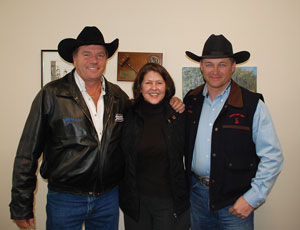 The Badlands Dinosaur Derby is coming up sooner than expected, and two WPCA Dodge Pro Tour drivers were in Drumheller last week drumming up support for the upcoming tarp auction.
    The tarp auction is coming up on April 6. This is a chance for local residents and businesses to bid on a chuckwagon tarp for their favourite driver at this year's event scheduled in Drumheller for the Father's Day Weekend.
    Chuckwagon drivers Jerry Bremner and Rick Fraser met with local businesses and officials to spread the buzz about the upcoming events.
     The Badland Dinosaur Derby has enjoyed success every year it has run, with hundreds coming to the Stampede Barn to take in the Half Mile of Hell. Bremner says Drumheller is a one of a kind event.
    "It is a unique venue, it is something you wouldn't see anywhere else in the world," said Bremner.
    The Ag Society has been busy improving the facility for the drivers and the fans. Bremner appreciates the efforts and said volunteers are crucial to the event.
    Before the action on the track takes off, the action on the auction block will heat up.
The tarp auction goes on Tuesday April 6. While the live auction will be at the Deerfoot Inn and Casino in Calgary, Drumheller will be one of the uplink hosting venues. The reception begins at 4:30 p.m. and the auction kicks off at 5p.m. In Drumheller, there will be food and drinks. It is a great opportunity for Drumheller residents to meet some of the WPCA drivers and to get behind the event.
    During the same auction, tarps for events in Grande Prairie, Medicine Hat, High River, Bonnyville, Strathmore, Dawson Creek and Rocky Mountain House, will be sold.
    While in the past the uplink has been via satellite, this year they are making the auction internet based. This means bidders will be better able to watch the bids come entered in real time. This will allow bidders from across the province to see the auction live without any time lag.
    For those interested on bidding on a tarp, but can't wait for the auction to come, they can place a pre-bid online by going to halfmileofhell.com and registering to bid. The pre-bidding will be cut off 24 hours prior to the start of the live auction. The pre-bid will be starting value for the tarp. If the pre-bid is not increased at the live auction, it will stand.
    Westjet is also in on the action. As a sponsor of the WPCA, they are offering two tickets to anywhere they fly. Every paid successful bidder will be entered into the draw.
    For more information, see www.drumhellerstampede.com. or www.wpca.com.