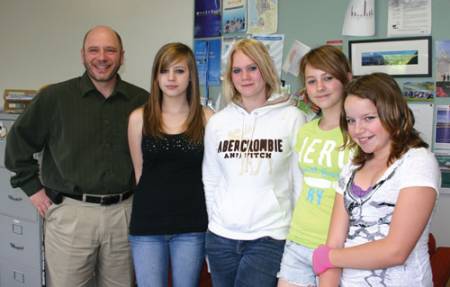 Drumheller Composite High School (DCHS) students are asking for your pledge to have the inside of your cheek swabbed to help one of their teachers and many other Canadians.
    Mrs. Shannon Dart, DCHS Math teacher, was diagnosed with a rare blood disease, called cryoglobulinemia with vasculitis and received numerous chemotherapy treatments over the past six years.
    What saved her life in June 2007 was receiving a stem cell transplant.
    The transplant was successful and put her in remission, until recently.
    Students at the school are desperate to help their much loved teacher, and Mrs.  Dart, mindful that there are many Canadians currently waiting for stem cells donations, suggested a pledge drive.
    A team of six Grade 7 students helped by DCHS associate principal Mr. LaPierre are working hard to draw at least 400 people to their pledge drive.
     "I am quite a private person," said Mrs. Dart to The Mail. "So I was a bit intimidated at first. But I feel very proud and encouraged that they are willing to help."
    Mr. LaPierre explained to The Mail, "We wanted to go big for Mrs. Dart, this is basically our support for her. Stem cells saved her life once, and it may very well do it again. Out of the 400 people we are hoping to get, none of them may match for Mrs. Dart, but they may match for someone."
    The idea is simple.
    On Wednesday, June 23 from 4:30 p.m. to 8:30 p.m., the DCHS is hosting a registry clinic in the gymnasium and is asking people from 17 to 50 years old to have the inside of their cheek swabbed.  A team from OneMatch Stem Cell and Marrow Network, managed by the Canadian Blood Services, will then test the swab to see if you are a match for any of the patients waiting for a stem cell donation.
    "If you are a match you could be the matter of life or death for somebody," explained Dara Kendell, one of the students helping with the drive.
    If you are a match, you will be contacted for further testing, and you will then be asked to decide whether you want to go ahead with the donation.  Any expenses associated with the donation after the initial testing will be covered by OneMatch.
    Hailu Mulatu, from OneMatch, who will be on site on the day, told The Mail, "A moment of people's time to do the swab will give a patient many more moments with their loved ones."
    To pledge and become a part of the Canadian Blood Services OneMatch registry, contact the DCHS at 403-823-5171 to obtain a form or click on the link at the bottom of the page.
    If you cannot attend the event, you can register your pledge online at www.onematch.ca to receive a self swabbing kit.