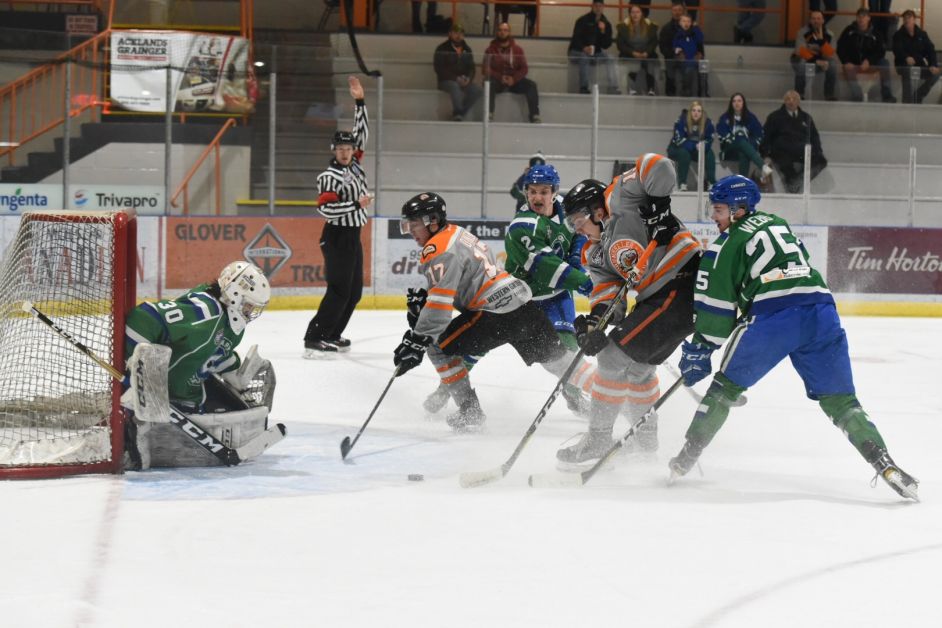 The Drumheller Dragons have officially set the tone for the post season playoffs last night, Thursday, March 8, with a 6 – 3 win over the Calgary Canucks in front of an energetic crowd of 665 fans.
The game started off with a bang as the Canucks scored 34 seconds in. Slater Dykema, assisted by Brett Edwards and Dawson Bruneski scored off the power play to quickly tie the game. Tyler Kreklewich was assisted by Alex Rotundo and Bradley Stonnell to claim another power play point shortly afterwards.
Goals were accompanied by a number of penalties for roughing, hooking, cross checking, and slashing from either side in the first.
Rotundo, assisted by Dykema scored the Dragons third goal nearly five minutes into the second period.
The Canucks fought back by taking their second goal of the evening two minutes later.
Third period is where the Dragons' hard work paid off, putting the nail in the coffin.
Kreklewich was rightfully named home star of the game for securing three goals, two of which were captured in the final period. Jordan Taupert also connected in the final period.
Both teams had 35 shots on net but the Canucks had better outcomes on the power plays as they scored 2 out of 4 whereas the Dragons scored 2 out of 5.
The Dragons play again tonight, March 9 at home for Game 2 of the 5 game series.
Photo Above: Canucks goalie Kolby Matthews, 30, anticipates the incoming offence Drumheller Dragons defenseman Troy Dudley, 17, and forward Slater Dykema, 11. Calgary Canucks defenseman Brody Medeiros, 2, and centre player Zach Webb, 25, were hot on their trail to intercept the potential goal. The Dragons ultimately won the game 6 – 3. Mailphoto by Terri Huxley