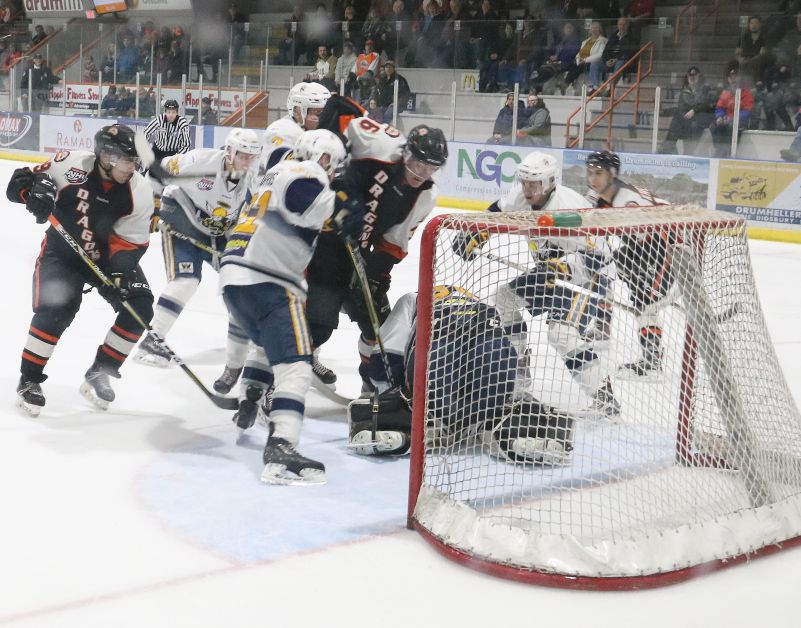 The Dragons are hoping to build momentum for the postseason.
This comes after two solid wins versus northern division teams over the weekend at home. The Dragons topped the Spruce Grove Saints on Friday night, February 23, 3-2, and then trampled the Drayton Valley Thunder 9-2 on Saturday.
"That is what it is about, you want to be peaking at the right time to finish off the season and I think our guys have done that," said coach Kevin Hasselberg.
The Saints are in top spot in the Viterra AJHL North Division. It was the Dragons who had the jump Friday night as Brett Edwards opened the scoring 3:20 on the powerplay to take an early lead. With about two minutes left in the period Brady Risk scored and then Andrew Kartusch made it 3-0 about 40 seconds later.
The Saints didn't go away and after a scoreless second period, they opened the third period with a goal. With two and half minutes left on the powerplay, the Saints pulled their goalie and made the score 3-2. This was as close as they could get as they held on for the win.
"We had a pretty good weekend, we knocked off the top team in the north in Spruce Grove," said Hasselberg. They have a lot of talented players right from their goaltender out to the forwards. There is a big reason why they continue to be the class of the north when it comes to regular season standings.
"The fact that we have been able to beat them three times this year is huge and should we have the opportunity to play them in the AJHL finals our guys should have some confidence, but that is a long ways away from now."
On Saturday the Dragons momentum continued and they came out flying with two goals from Alex Rotundo as well as one from Jordan Taupert and Slater Dykma put the Dragons up 4-0 in the first period. Tyson Scott scored early in the second followed by Edwards and Brady Nicholetts to end the second 7-0. Taupert scored his second before the Thunder made it onto the scoreboard. The Thunder added one more goal, but so did Derrick Budz as the Dragons went on to a 9-2 win.
"The guys have been scoring a lot of goals in the last little bit and for us to put up nine against a team that has been playing very well, was gratifying," said Hasselberg.
The Dragons have just two more games before the end of the regular season and are sitting in third place in the Viterra AJHL South. the team is relatively healthy with a couple day-to-day injuries.
"Coming out of the last two games of the regular season, you hope you get through them unscathed and be good for the playoffs," said Hasselberg.