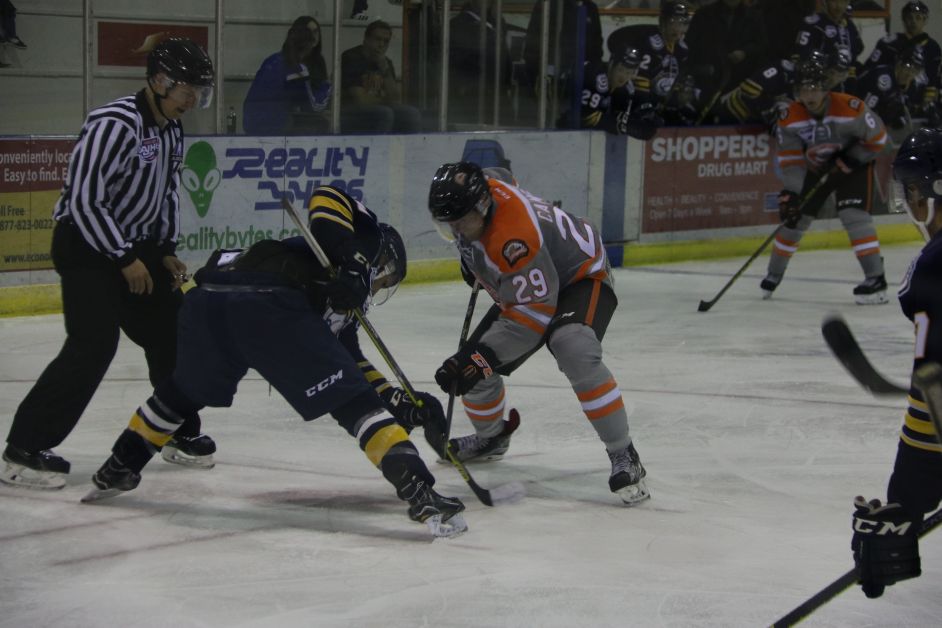 The Dragons earned their first win of the season, and they did it on home ice.
The Dragons celebrated their home opener on Friday, September 23, taking on the Calgary Mustangs.
After outshooting the Mustangs 14-3 in a scoreless first period, Bradley Stonnell found the net 3:42 into the second. Just 14 seconds later, Blake Kleiner put the Dragon up by 2. The Mustangs answered back, but Leif Mattson put the Dragons up 3-1. A minute later Jordan Taupert also found the net. The Mustangs scored one more to end the period, but it was too little too late as Drumheller won 4-2.
Coach Brian Curran liked the effort.
"I loved about 35 minutes of that game," he said. "It was our home opener, we came out strong and the guys played together as a team. When we got up to our fourth goal, we got away from our team concept, and began playing more like individuals. That was hard, I didn't enjoy that."
The next night the Dragons hosted the Whitecourt Wolverines, who were stung by the Brooks Bandits the night before.
"Whitecourt is a much older team than we are, lots of veterans there," said Curran.
Outshooting the Dragons 14-3 in the first period, the Wolverines went up 1-0 on the powerplay. The Dragons evened it up in the second, when Slater Dykema scored, assisted by Taupert and Joren Patenaude.
The Wolverines jumped ahead in the second with two goals, but with two minutes left, Dykema scored, ending the game 3-2 for Whitecourt.
"They deserved the win there is no question about it, but I was very proud of our players, the way they competed all night," said Curran. "We know that we are going to get better. We know everyone is going to get better, but if we put that kind of commitment and work ethic into it, the way we battled, it shows we can compete with them.
"At the end of the day if we keep getting that kind of effort, and we continue our growth and the path we are on, everyone is going to be seeing a different team in two months."
The Dragons are playing in a tournament weekend in Camrose where on Thursday, September 29, they play the Drayton Valley Thunder, and on Friday, play the Fort McMurray Oil Barons. They are back home on Friday, October 7 to play the Calgary Canucks.