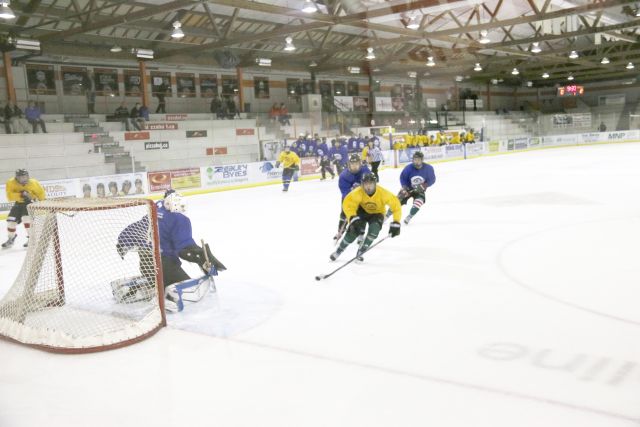 Some of the top hockey prospects in Alberta were at the Drumheller Memorial Arena last weekend to be seen at the Drumheller Dragons Spring camp.
Coach and general manager Brian Curran said about 144 players came out for the camp from Friday night to Sunday afternoon. All received ample ice time, and all were top quality players.
"It was a very successful weekend," said Curran.
While the Dragons are not able to secure players until June 1, he said they invited players they have had on the radar for sometime. As the camp progressed, they winnowed their numbers down to 40 playing in the prospects game and 40 to play in the future game.
"Futures are obviously for the future, but prospects are for now," said Curran.
He explains they have strong interest in about four players from the Futures group that could suit up for the Dragons in a couple of seasons. The prospects also had a strong group with about 8-10 players they have interest in pursuing. He understands many will be heading out to camps for other teams and leagues.
"There are some great coaches and some bad coaches in all the leagues. For me if a kid is going to play some other place because of the views, then I wouldn't want the kid anyway. Every place has its positives. I always say if I had a son coming into this, and I felt comfortable with the coach and staff, Drumheller is the ideal place: this is where you want your boy to play, it makes it conducive for a players."
He says the Dragons are focusing on a younger team next season, aimed at giving the players the best opportunities possible.
"We are going younger next year because we feel we can start showing the NCAA schools that we are going to have 16 and 18 year olds on our team and they are good players. These kids will have a great opportunity, and as soon as we have the team picked we are going to flood the NCAA with all the potential players," said Curran.
He credits the scouts for putting together a top quality group for the camp.
"We changed our whole scouting staff after Christmas and our scouts have done a phenomenal job. People don't know these guys aren't paid and they travel throughout the north and Red Deer and Calgary. And they did a terrific job of bringing some of the best players from the AAA programs and 15's programs."
The Dragons have another spring camp coming up in Fort Saskatchewan on April 22-24.