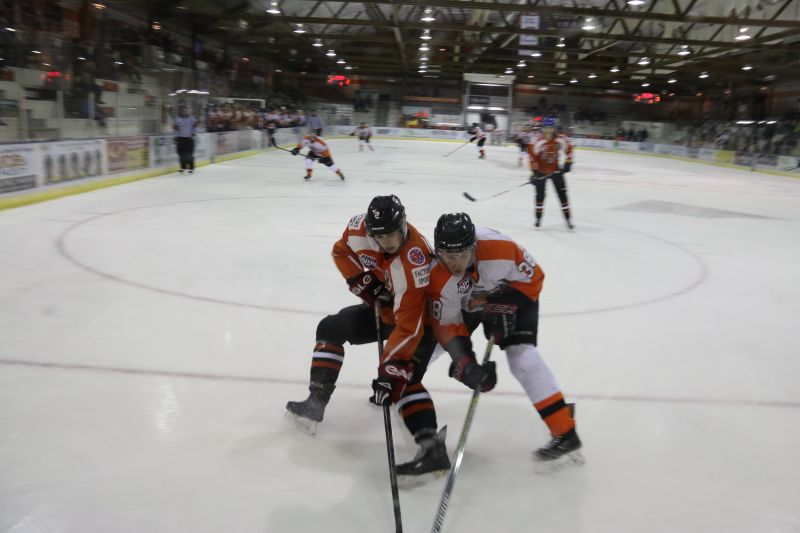 About 400 fans were able to see the 2016-2017 edition of the Drumheller Dragons and saw some bright spots.
The Dragons wrapped up the exhibition season last Friday night at the Drumheller Memorial Arena. The night before they were in Lloydminster where they beat the Bobcats 3-1. Both teams returned for the rematch, and Drumheller looked strong out of the gate. The Dragons outshot the Bobcats 14-2 in the first period, and went up 2-0 with goals from Brayden Nicholetts on the power play, and then Tyler Oakenfold.
"In the first 35 minutes there is not much we can say negative about our team," said head coach Brian Curran. "We did a lot of good things, I think our d-zone was good, our transitional good, our neutral zone as good, we were playing physical and we competed really hard."
It didn't take long for the Bobcats to get back in it, ending the second period tied at two, and then scoring the winner in the third.
"Their goalie kept them in the game, and then we had a breakdown. I felt the momentum changed, instead of playing as a team we played more like individuals after scored the second goal on the power play," said Curran. "We lost our composure."
"Did we work hard? Extremely hard. For the first 35 minutes we worked as a team, for the last 25, we worked as individuals."
Despite the loss, there were many positives for the young Dragons.
'"I felt we controlled a lot of the play in both games, but we leaned a lot. We made some young mistakes and I am glad they are happening now. There is no question we are the youngest team in the league and I think if we can push it and grow together as team, we will just get better and better," said Curran,
The focus for Curran has to be hard work.
"They are a hard working team," he said. "The effort is going to be there every night. We won't have players who are not going to compete. If they are not competing, they are going to put themselves in the stands, and they have been made well aware of that."
While he doesn't demand perfection, he demands progress.
"We know this is a work in progress… but as long as we are growing all years teams will know what to expect from us."
The Dragons kick off the regular season on Friday, September 16 in Camrose. Their home opener is Friday, September 23 at 7:30 p.m. Prior to the game there is a tailgate party at the BCF with food, games, prizes and face painting. That action kicks off at 5 p.m.