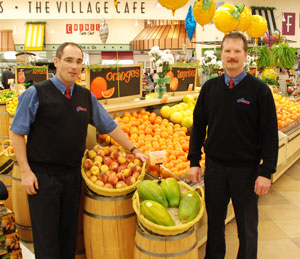 Freson IGA Drumheller has had a continual presence in Drumheller supporting the community, and have jumped on in a big way to support the building of the Badlands Community Facility.
    Freson IGA has pledged $100,000 over five years to the project.
    "Drumheller and District has been an important part of the success of our company, and we want to help the Badlands Community Facility with their funding by donating $100,000," said Doug Lovsin, former resident and Vice President Operations of Freson IGA. "We believe in investing in the communities we serve and we make this commitment on behalf of our Drumheller management and staff."
     The Freson IGA company started in 1955 and now has 15 locations in Alberta. It employs over 1,000 throughout its various operations. Since 1990, the IGA store in Drumheller has been operated by the Freson company.
    Mr. Lovsin told The Mail, the commitment also carries a personal connection as he and wife Deanna were married in Drumheller and their five children were born here. The Lovsins left the valley in the summer of 2009.