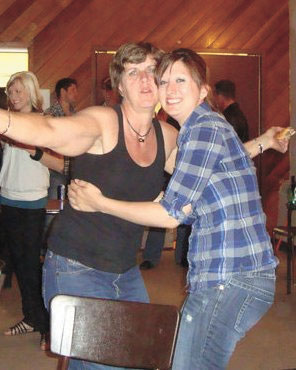 Paul Brandt could be coming to Hussar to perform a free concert, but the Hussar community needs everyone's vote to make this happen.
    Paul Brandt fan, Nichole Faye, fell on a link to a 'Small Town Heroes' contest, run by the UFA, when she was browsing Brandt's website.
 "While reading the contest rules, the first person that came to mind was my auntie Wendy [Kaiser]!" she told The Mail.
    The UFA wants to celebrate people who make a difference in rural communities and small towns across Alberta, the company describes as "Small Town Heroes."
    They are asking people to nominate a person who "do all the right things to make their town a better place to live. And, they do it without any thought for themselves."
    People will then vote who they want to win and the two people and their communities who have the most votes by the end of the contest will receive a free concert from Country superstar Paul Brandt as well as $2,500 to donate towards their community efforts.
    Speaking with Faye, it is easy to understand why she nominated her auntie.
    "She is always there, no matter what you ask her, she volunteers all the time," she explained. "She has three kids that are fully grown and gone  but she is still the leader of the Hussar 4-H Beef Club,  she is still involved with the horse club and the school, she is still involved with everything to do with our little community. She was there fighting for our school when it was getting closed down even though her last child graduated in 2008, she was still there fighting right beside us. No matter what, she is a very busy lady but she always finds time for her family and our community."
    So Faye got busy on Facebook, asking her friends to follow the link she put on her wall, texting everyone and getting her family involved too in Hussar [She is currently working in Edmonton].  Her cousin Brady, son of Wendy, has even made up posters.
    Her efforts have so far paid off, Wendy Kaiser has stayed top of the nominees list since the contest started.
    Asked whether she was surprised by the response, Faye said, "I actually am, I thought people would brush it off thinking it was kind of silly, but actually everybody in our community agrees 100 per cent with me, and says 'yeah Wendy deserves this, she is 100 per cent the most involved person in our community and she deserves something back.'"
    What drove Faye too was a desire to give something back to a community she loves.
    "It's something for our community too. It is  kind of dying lately and I want people to come back to our community and see how amazing a community Hussar actually is."
    Nominations end on August 30, 2010 and the winners will be announced on September 15.   
    To vote for Wendy Kaiser, log on to smalltownheroes.ca.
    Look for Wendy in the nominees list, open the link to her story and click 'vote'. One vote a day is allowed.