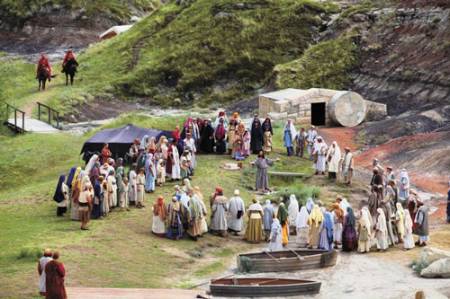 Every year the Canadian Passion Play undergoes minor "tweaking" to improve the already starkly authentic play that is set to continue its almost two decade run on the weekends of July 9 and 16.
    The Passion Play has made a number of physical changes to the grounds and infrastructure, as well as enhancements to the script and a number of scenes.
    "When you include Bill Hamm's musical arrangements with the choir, it all adds up to what we believe will be our best Passion Play performance ever. Thankfully, amidst all of these changes, we've kept our core group of leading actors intact," says artistict director Randall Wiebe.
    The actors playing Matthew (Saskatoon actor/playwright, Tim Hildebrand), Mary Magdalene (British/African actress Lennette Randall), and Jesus (Strathmore's Stephen Waldschmidt) will be returning to play the lead trio.
    "Their performances and audience feedback were exceptional, so we decided to repeat it again this year," says Wiebe. "Also returning for his third season as Jesus is Waldschmidt who has grown into his role with an understanding and passion that is a joy to watch."
    The Passion Play is also welcoming David Snider back to their fold, who played Jesus in 2007. 
    "David who has played the lead role in several recent summer musicals at Rosebud Theatre will portray Sadduk, one of the top Pharisees in Jerusalem.  He will also be the understudy for both Jesus and Matthew. David is a consummate professional actor who makes us all better."
    Wiebe says 2010 is a special year for Passion Plays, as many North Americans will be travelling to Oberammergau, Germany to see their version of the Passion Play, only performed every 10 years.
    "Many patrons tell us they have seen the Oberammergau version and they prefer ours," says Wiebe, "because it is so authentic both visually and geographically."
    Another change that may affect the way you buy tickets this year, is seating is now assigned. Tickets can be purchased allowing the audience to choose where they would like to sit.
    Tickets can be bought online at www.canadianpassionplay.com or by dialling 1-888-823-2001.
    The first weekend of shows starts on July 9 and 10 at 6:00 p.m., July 11 at 3:00 p.m., then the second weekend Friday, July 16 at 6:00 p.m., and Saturday and Sunday, July 17 and 18 at 3:00 p.m.