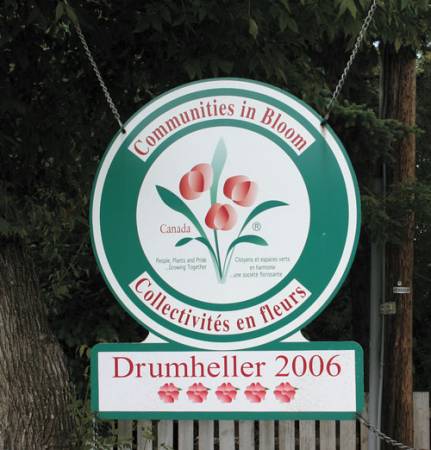 Drumheller will not be entered in the Communities in Bloom (CiB) competition this year, co-chair of CiB, Trish Parker, recently announced, but will remain a Friend of Communities in Bloom.
    When CiB judges visited the area last year, the Drumheller valley received 4 blooms and a special mention for community involvement for overall performance in criteria that highlighted the community's effort in environmental responsibility and beautification.
    Impressed by much about what Drumheller had to offer, the judges also found the area was missing many of the fine details to be awarded the top 5 blooms Drumheller received in 2006 and made recommendations on how to improve the grading.
    Parker told inSide Drumheller, "The CiB judges who visited us last year gave us some excellent recommendations and we are working on implementing their suggestions. We have decided to spend our efforts doing this instead of bringing the judges to town this year." 
    She added that the group was still working diligently on beautifying Drumheller "One Block at a Time" and that they had partnered with many stakeholders to beautify the entrance to Historic Downtown by the Atco Electric building.
    In July, the group is also organizing a Garden Tour in partnership with the Garden Club and the Badlands Community Garden Society.
    "CiB in Drumheller is only a small part of bringing this town to a world-class tourist destination. All parts of the community must get involved and work together to make this happen," Parker concluded.
    Some of the recommendations pointed to a need for the Town of Drumheller to increase personnel to look after the green spaces.
    Al Kendrick, infrastructure services director told inSide Drumheller the town has addressed some of the problems mentioned in the judges' report, adding they were not big enough to hire an expert from Olds College to dedicate time to tree and urban forest management but they hire contractors when needed.    
    "I don't think people realize the size of Drumheller. It is 125 square kilometers, and for what we have for staff, they do an absolutely excellent job of going around and keeping it in pretty reasonable condition in my opinion," Kendrick said, adding the department was tied to a three-year budget.
    Councillor Sharel Shoff told inSide Drumheller she felt the town should be looking at the green space as beautifying Drumheller is important for the residents and also for visitors.
    "The budget is due in the fall but we are already talking about it a little bit now," said Shoff.
    "I will check to see what the budget is and what we are spending it on and if there is any chance of having a little help."
    In the meantime, Parker said that the CiB would welcome new members to join and help create an award winning community.