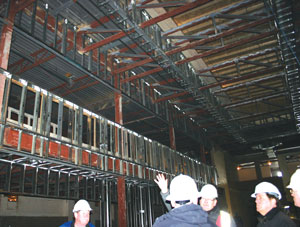 In Drumheller, 2009 was a record year for values of building permits, as it edged out 2008's yearly totals by close to $1 million.
    2009 was a year for growth, and while the total number of building permits was down by about 30, the overall total value was up over $25 million. A large part of that was spurred on by institutional growth.
    In 2009, six institutional building permits were taken out for a total value of $15,400,538. The bulk of this was for the renovation and modernization of Drumheller Composite High School. That permit alone was worth more than $14 million.
    Another growth area for the town was in industrial permits. The value went from just over $800,000 in 2008 to $3,692,584. A large portion of this was municipal work at the Drumheller Water Treatment Plant.
    While other sectors remained strong, they did take a slight dip when compared with the previous year. This year there were 12 commercial permits taken out with a value of over $1.5 million, down more than $1 million over the previous year. The renovation to make way for the new Shoppers Drug Mart was one of the main drivers of this number, with a value of about $1 million.
    There were 78 residential building permits taken out with a value of $4.5 million, down from just over $7 million in 2008. This was the lowest number of permits taken out since 2004.
    Recreational building permit values also took a small jump, with the sole permit issued to the Dinosaur Golf and Country Club with a value of $106,000 for its new storage building.