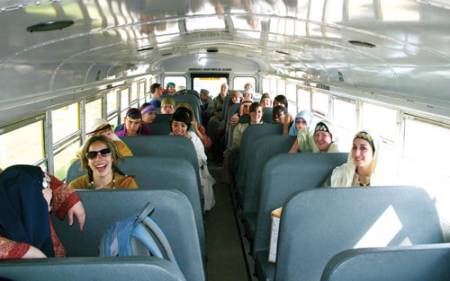 As much as students count down the seconds on the clock as the school year ends, you would think that most teachers are eagerly awaiting the summer to begin.
    For Tom Stolz, he heads back to his office and blows up his air mattress.
    The Canadian Badlands Performing Arts Summer School is already in session. In all, 54 students have made their way from throughout the province and beyond to board at St. Anthony's School, work on their performing arts craft and earn high school credits. Along the way they get valuable stage experience performing in the Canadian Badlands Passion Play.
    This is Stolz's eighth year with the school, and it has been affiliated with the Christ the Redeemer School Division for four years. Through this partnership, students are able to earn their Advanced Acting 15-25-35 credits, and now this year they are able to earn credits in TEAM Leadership.
    "In my 23 years of teaching, this is the best thing I have done," said Stolz.
    Summer School began on June 30 and continues to July 18.
     While to some it sounds like easy credits, it is a rigorous schedule for the students. Stolz explains that every day at the summer school is like 10 regular school days. The fundamentals of singing, acting and dance are all explored. The students work with professional educators and performers to hone their skills as well as develop confidence, self-awareness, auditioning and leadership skills.
    He says why it works so well is because the students are motivated and make a considered decision to enrol. Because of the students' focus, he says discipline is not an issue. There is a also a strong camaraderie among the students.
    The theatre school keeps students coming back as well. He says many of this year's councillors are former students wanting to come back and support the program.