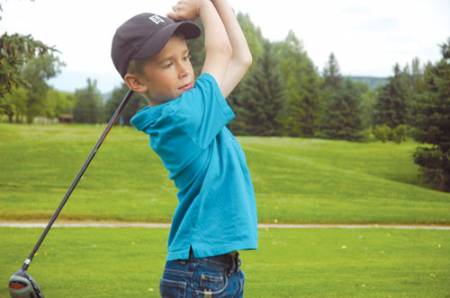 Sinking a birdie on a par three is a feat most adults would love to pull off on the golf course.
    But to hear of young Daylen Ostapowich, 7, sinking it is a story in itself, let alone the fact the young boy has been fighting kidney disease for all of his known life.
    Daylen suffers from Nephrotic Syndrome, a disease that inhibits his kidneys from filtering out toxins that spill into his blood.  Mixed with the immune suppressant medication he's prescribed, this can even make a bug bite or common cold a week-long ordeal.
    "Daylen knows this is his life, he knows he's different, but for him this is the norm. He just trudges on, through hospital visits and daily medication," says his mother Theresa. 
    "I get my strength from him… he's my inspiration."
    The cause of his health problems isn't nearly as profound as what the young "trooper" is doing about it.
    Daylen can sure golf, and for the first time he and his family, spearheaded by his mother, will be hosting a fundraiser with the Drumheller Golf and Country Club to raise money for the Daylen Ostapowich Kidney Research Fund with his favourite pastime -  golf.
    Their goal is to get a chair at the University of Calgary in Nephrology, and in order to do that the Southern Alberta Chapter of the Canadian Kidney Foundation is planning on raising $1.5 million, which will be matched by the Alberta government, in order to set up a field of research into the syndrome at the university.
    Drumheller's golf course will be hosting the tournament on July 30 where all proceeds will be directed to getting a chair in place to study the disorder affecting Daylen.
    "We are wanting to raise funds as much as possible to get the chair going, and hopefully get some more money into this kind of research to find a cure or other possible medications to help people with kidney disease," says Theresa.
    Their goal for the tournament is $10,000 to be put into the fund.
    To participate in the tournament, tickets can be bought at the Drumheller Golf and Country Club, or by contacting Theresa at 403-823-9833.