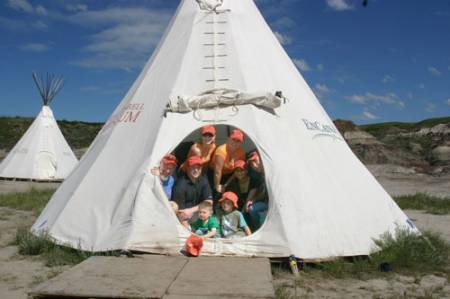 Representatives of Encana were able to see firsthand the impact the Royal Tyrrell Museum's Science Camps are making on the young participants last Wednesday.
     Encana has been a sponsor of the Encana Badlands Science Camps for the last four years. The camp offers young people, ages 9-15, a unique experience of learning about the natural history of the area, and of course dinosaurs. On July 7, a group from Encana toured the camp and participated in activities including fossil hunting. Councillors and campers directed the guests in what to look for when prospecting for fossils.
    The guests also toured the Tyrrell's 25th anniversary exhibition.
    "We are appreciative of the sponsorship, and we want to show our gratitude," said Jason Martin director of operations and finance for the Royal Tyrrell Museum, who invited Encana out for a day of fun and learning in the Badlands. "The camp touches people from all over."
    In fact, he said this year they have registrations from as far as Australia and the United Kingdom as well as the US and strong representation from points across Canada.  For the last three years the demand continues to grow, even as the Museum increases capacity.
    Tyler Eddy founded the camps in the vacuum left when Dinosaur Country Science Camps, operated by Robin Digby, ended. Today, Morgan Syvertsen coordinates the program.
    The impact of the camp on young people's lives is evident. Martin explains in the early years it was difficult to staff councillors, and now they do not even have to post the positions. This is due to a contingent of former campers completing the program and enrolling in Leader in Training and Councillor in Training programs offered at the camp.
    One of the councillors on site this day, Greg Funston, started as a camper and is now a councillor. He is also studying Palaeontology at the University of Alberta.