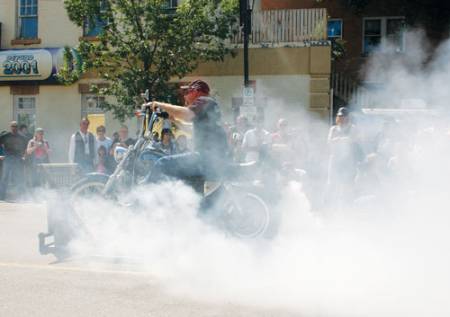 That all too familiar rumbling is coming back to the valley this weekend for Motorcycle Madness.
    Some of the hottest rides from the valley and beyon will be descending on downtown Drumheller to celebrate all things motorcycle. Terry Kuhl, one of the organizers of the event says they have a full slate of activities for bikers and spectators alike.  The tagline for the event is "Bikes burnout and family fun in the heart of downtown Drumheller."
    The beauty of the motorcycle is the majestic feeling of hitting the open road, and that is the main activity for the weekend.    
    On Friday night, riders can get involved by jumping in the steak ride and dinner. Those wanting to participate will be mustering at 5 p.m. on July 9 at Yavis Restaurant, and then hitting the road at 5:30 p.m. for an approximately one hour tour of the valley to culminate with a steak dinner
    Things get going bright and early in Downtown Drumheller on Saturday morning.  There will be a pancake breakfast from 8:30 to 11 a.m., hosted by the Morgan Jayne Project. This is also the time to register for the poker run, which takes off at 10:30 a.m., and takes riders on a tour of the area picking up cards along the way.
    The final card will be at the Drumheller Legion, the epicentre of the afternoon's events. Centre Street from Railway Avenue, north past the Legion will be blocked for a show and shine, bike games, a burnout pit, live entertainment and other activities hosted in conjunction with Downtown Drumheller. The Legion will be hosting a beer garden and concession, and there will be entertainment into the night.
    All of these activities are not only to have fun but to support local community groups. The Morgan Jayne Project will benefit from the pancake breakfast, and the Drumheller and District Humane Society will be hosting a lunchtime barbecue to support their efforts. Last year the Motorcycle Madness committee, working as a non-profit, named the Drumheller Area Health Foundation as a benefactor of the event. This year they have decided to direct their funds to KidSport, a charity that allows children to participate in organized sport by helping to offset the costs for those in need.
    "That is why we do it all, to have fun and to raise funds for groups in need in the valley," said Kuhl.