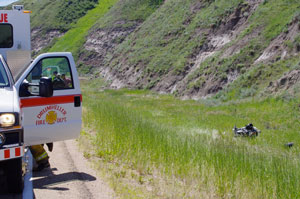 A single vehicle motorcycle accident on the North Hill of Drumheller resulted in the death of the operator, early Wednesday afternoon.
    Around 1 p.m. on Wednesday, July 7, Drumheller RCMP, Drumheller Fire Department and Badlands EMS were dispatched to the scene of a single vehicle accident north of Drumheller on Highway 9. According to a police release, the motorcycle was heading south down the hill when it went out of control with the driver and bike landing in the ditch on the west side of the road.
     The driver was taken by ambulance to the Drumheller Health Centre where he died shortly thereafter.
Police continue to investigate. According to Corporal Kevin Charles, witnesses to the accident observed nothing unusual in the driver's handling of the motorcycle. Alcohol and speed are not believed to be factors in the accident.