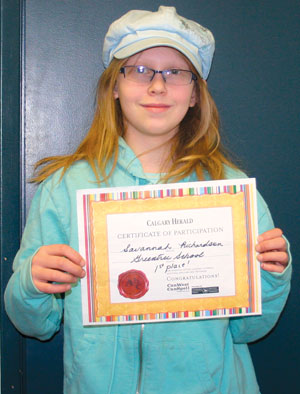 Wednesday, December 2, Greentree School held their 4th Canwest Canspell competition where students from Grades 5 and 6 competed for the chance to go to the Regionals held in Calgary in March.
    Savanna Richardson, 10, in Grade 5 at Greentree School came out on top and won 1st place. She is very excited about winning and a bit nervous at the thought of going to Calgary.
    Savanna took advantage of her long school bus journey to study and memorize lists of words and it paid off as she  beat 15 other local students.
    "My mom and my home room teacher, Victoria Salvatore, also helped me study," says Savanna.
    Savanna entered the competition after successfully passing the Edmonton spelling test, but her love for the written word is not new, Savanna wants to be an author when she grows up and has already written stories about animals.  She also likes to write vampire fiction and is an avid Twilight fan.
    "I found the competition very easy, most of the words were from Grade 2," explains Savanna, "but there will be words from foreign languages at the next stage!"
    Before she heads to the regional competition in Calgary, Savanna will have to complete a written qualifier, and Anne Morgan, Greentree principal, is confident Savanna will do fine.
    The top speller in each of 21 regional spelling bees will receive a $5,000 Canspell Education Award and will secure a place in the National Final which will take place in Ottawa. A $15,000 Canspell Education Award is provided to the winner of the Canwest Canspell National Final.