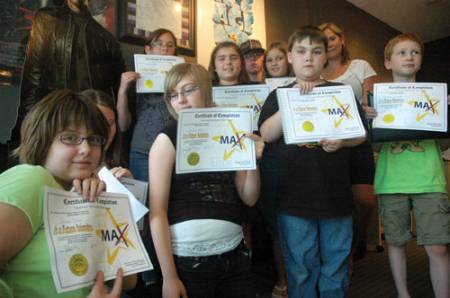 The drawings produced at MAX Campus' first ever youth animation workshop was startling.
    In one day the 9-15 year old group were given a look behind the scenes of animation, while creating a portfolio of work in classical animation and cartooning.
    Computerized films like Disney-Pixar's Up! and Toy Story may appear to be the new wave of animation, but class instructor Janelle Hilchey says classical animation (hand-drawn) can never be replaced.
    "It's definitely not dead," Hilchey says, finishing up teaching the class of  10 who attended Saturday.
    "Behind the Pixar products is thousands of drawings... you can't get into the animation world without being able to hand draw."
    The youth animation program saw students sketching 3D objects from different angles, combining shapes and creating their own characters.
    MAX Campus, which is preparing to see its first graduates in September, has seen strong numbers and student satisfaction.
    The next workshop will be held August 21 at their downtown location.
    Enrollment has doubled since last year, from six to 11.
    "The best response we get is the small class sizes we offer," says the school's business manager and registrar, Angela Moreau. "That makes the biggest impact on our students."
    Students finished their final semester on Friday, July 30, in what Moreau calls a huge success.    
    A showcase of the student's work will be available on the MAX Campus website after their informal graduation ceremonies on September 2.