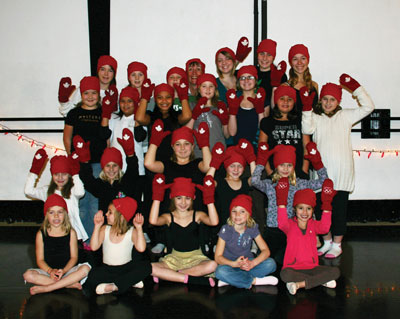 While there has been some high profile entertainment announced for the Olympic Torch Relay Celebrations,  Drumheller dancers will be able to take the stage and shine.
     For almost a month, 23 dancers from the Carol Todor Dance School have been working on a routine to welcome the torch when it comes through Drumheller on January 16, 2010.
    "The dancers are doing great because they are so keen," Todor said.
    The dancers are from age 5-20 and will be dancing to I Believe as recorded by Yolanda Adams. The song will be performed live by the DCHS Choir, led by Jillian Augey for the performance.
    Todor, upon hearing the buzz of the torch coming  she enquired to the local organizing committee for the event as to whether they could participate they were given the green light.
    "I thought what if I only get two kids," she laughs "I was very happy about the turnout."
    She said the core group of dancers have been dedicated, not missing any practices. The dance will incorporate the red mittens that have become a symbol of the Vancouver 2010 games. Bits and Pieces in Drumheller has donated the fabric, and made tuques for the troupe, and EnCana has supported the dancers to help purchase hoodies for the performance.
    Todor is excited for the performance. She assembled a group to dance to celebrate the winter games in Drumheller. There is even more buzz tis year as  the Olympic  torch will make its way through valley.
    "Whether your an audience member or a figure skater, I think it makes it more close, and more real than just on TV," she said
    There are still two more dates with three locations to get tickets for those wanting to take in the Olympic Torch Relay Celebration in Drumheller.
    The committee's first offering of tickets on Saturday, November 28 went like wildfire. The tickets were distributed in short order.
    There are still more chances to pick up tickets.
    This Saturday, December 5 committee members will be at Extra Foods in Drumheller and at the Hanna Mall to distribute tickets from 10 a.m. to 3 p.m. Committee members will also be at Greentree Mall on Saturday, December 12 from 10 a.m. to 3 p.m. distributing  tickets.