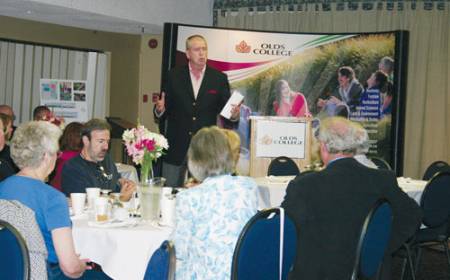 Community members attended a breakfast meeting on Friday, June 25 at the Drumheller Inn, to hear an update from Olds College on its past, current and future plans.
    Also present at the meeting were Drumheller-Stettler MLA, Hon. Jack Hayden, Minister of Agriculture and Rural Development, and Jim Ramsbottom, former chair of the Big Country Education Consortium.
    Many business owners and key individuals came to hear Dr. H.J. Thompson, president of Olds College, explain the recent progress since forming the Central Alberta College-Community Partnership (CAC-CP) with Red Deer College but also to introduce Drumheller to a new concept: the possibility of becoming a Super Engagement Site.
    Since forming the joint venture agreement with Red Deer College, the interim board put in place is now ready to become permanent. A new executive director for the CAC-CP is being sought and they will soon be advertising for members of the public at large to serve on the board, which will become operative on September 1, 2010.
    Olds College has also developed Community Engagement Sites.
    The sites enable members of the community, schools and businesses to access a wider choice of programs, services and courseware through videoconferencing or other broadband learning applications. This is made possible using the SuperNet technology.
    Linde Turner, manager of the Drumheller Public Library, which is already using videoconferencing equipment with SuperNet, told The Mail she is looking forward to exploring the possibilities.
    "I am all for collaboration because it is cost effective, it's more friendly, it's better use of our tax dollar, so I am all for that. I think if it brings an end to people having turf wars, so much the better. We are a small community and we need to make the best use of the talent and the money available to us."
    Turner explained how beneficial access to their videoconferencing has been in the past year.
    "We offered 32 sessions and we had 90 people. It's not that many, but when you consider that is 90 people who didn't have to travel, who maybe learned something they didn't know otherwise."
    In the case of Drumheller, they see the possibility of creating a Super Engagement Site, where the town could become a hub to connect communities in the area.
    Currently, in Olds, a model of a super engagement site is being developed.
    Dr. Thompson explained they had the support from the provincial government regarding the concept and recent news he had heard from Minister Hayden that the 2011/2012 budget will include a second allotment of $100,000,000 to go to Rural Alberta Development could benefit Drumheller.
    "This is good news, because the first $100 million that went in two or three years ago, when we were able to put together the proposal for the initial engagement site, that's where a lot of that initial upfront capital came from to equip those initial 12 engagement sites. And I thought this is a good piece of news for a place like Drumheller, particularly if you had a larger vision that actually would connect to these communities. I am told that our provincial government, and the Rural Alberta Development folks, after speaking to their chairman two weeks ago, a man called Brad Ferguson, have actually identified this whole concept here as one of their big winners. And they want to take good to great, they want to move it to the next level, so I think this is the time to get ready, here in Drumheller," said Dr. Thompson, adding he'd be happy to help.
    An advisory committee is being created to explore the possibilities and Olds College will invite key people to see their model of a super engagement site in September.